Method for isolation and molecular characterization of extracellular microvesicles released from brain endothelial cells
Fluids and Barriers of the CNS
2013
10:4
Received: 21 September 2012
Accepted: 18 December 2012
Published: 10 January 2013
Abstract
Background
In addition to possessing intracellular vesicles, eukaryotic cells also produce extracellular microvesicles, ranging from 50 to 1000 nm in diameter that are released or shed into the microenvironment under physiological and pathological conditions. These membranous extracellular organelles include both exosomes (originating from internal vesicles of endosomes) and ectosomes (originating from direct budding/shedding of plasma membranes). Extracellular microvesicles contain cell-specific collections of proteins, glycoproteins, lipids, nucleic acids and other molecules. These vesicles play important roles in intercellular communication by acting as carrier for essential cell-specific information to target cells. Endothelial cells in the brain form the blood–brain barrier, a specialized interface between the blood and the brain that tightly controls traffic of nutrients and macromolecules between two compartments and interacts closely with other cells forming the neurovascular unit. Therefore, brain endothelial cell extracellular microvesicles could potentially play important roles in 'externalizing' brain-specific biomarkers into the blood stream during pathological conditions, in transcytosis of blood-borne molecules into the brain, and in cell-cell communication within the neurovascular unit.
Methods
To study cell-specific molecular make-up and functions of brain endothelial cell exosomes, methods for isolation of extracellular microvesicles using mass spectrometry-compatible protocols and the characterization of their signature profiles using mass spectrometry -based proteomics were developed.
Results
A total of 1179 proteins were identified in the isolated extracellular microvesicles from brain endothelial cells. The microvesicles were validated by identification of almost 60 known markers, including Alix, TSG101 and the tetraspanin proteins CD81 and CD9. The surface proteins on isolated microvesicles could potentially interact with both primary astrocytes and cortical neurons, as cell-cell communication vesicles. Finally, brain endothelial cell extracellular microvesicles were shown to contain several receptors previously shown to carry macromolecules across the blood brain barrier, including transferrin receptor, insulin receptor, LRPs, LDL and TMEM30A.
Conclusions
The methods described here permit identification of the molecular signatures for brain endothelial cell-specific extracellular microvesicles under various biological conditions. In addition to being a potential source of useful biomarkers, these vesicles contain potentially novel receptors known for delivering molecules across the blood–brain barrier.
Keywords
ExosomesProteomicsBlood–brain barrierDrug deliveryMass spectrometryMicrovesiclesEndothelial cellsCNSBiomarkersReceptor-mediated transcytosis
Background
Brain endothelial cells (BEC) lining the brain capillaries are sealed by tight junctions and exhibit a specialized molecular and functional phenotype referred to as the blood–brain barrier (BBB). The BBB functions as a physical and enzymatic barrier and employs polarized transport systems to control the exchange of nutrients and macromolecules between the blood and the brain [1]. BECs are tightly integrated with other neighbouring cells, pericytes and astrocytes; astrocytes also communicate with neurons acting as a liaison for endothelial–neuronal coupling (the neurovascular unit; NVU). The luminal, blood-facing surface of BEC is endowed by a thick and dynamic glycocalyx involved in sensing the microenvironment and interactions with blood-borne cells. With the surface area of ~20 m2 in the human brain, BECs are a potential source of diagnostic/prognostic blood-accessible biomarkers characteristic of brain pathologies.
Whereas the BBB is a hindrance for delivery of therapeutics, especially macromolecules, to brain targets, specific BEC receptors that undergo receptor-mediated transcytosis (RMT) have recently been exploited for the development of 'Trojan horses' – molecular ligands to these receptors that can 'piggy-back' therapeutics across the BBB. The current spectrum of known BBB receptors that undergo RMT is limited, and only a few, including the transferrin receptor (TFRC) [2, 3], insulin receptor (INSR) [4, 5] and low density lipoprotein receptor-related protein 1 (LRP1) [6, 7] have been used for brain delivery of macromolecules with varying success [7, 8]. Mechanisms for the RMT process remain poorly understood; despite the surge in literature on intracellular sorting processes leading to receptor endocytosis and recycling, the nature of 'transcytosing vesicles' of the BBB remains obscure.
Most eukaryotic cells secrete a mixed population of extracellular microvesicles (EMVs). The EMVs are released either through exocytosis of multivesicular bodies (MVBs) forming 50-100 nm-diameter exosomes or through shedding of plasma membranes forming 100-1000 nm-diameter shedding vesicles or ectosomes [9–11]. EMVs have been isolated using differential centrifugation methods [12, 13] from cultured supernatants and body fluids including cerebrospinal fluid . EMVs originating from different cells and tissues have been analysed using electron microscopy and various molecular methods, including proteomics [14], and the results of these analyses have been compiled as the database of proteins, miRNAs and lipids known as ExoCarta [15]. EMVs are released by various CNS cells [16–18] and endothelial cells [19], including fetal brain endothelium undergoing angiogenic sprouting [20].
EMVs contain RNA and proteins that are specific to the original cell type. For example, tumor-derived exosomes usually contain tumor –specific antigens as well as certain immunosuppressive proteins such as FasL, TRAIL, or TGF-β [9, 21]. This cell-derived specificity and accessibility from body fluids [13] has made EMVs an attractive source of biomarkers for transcriptomic and proteomic studies. BBB-specific EMVs that are shed or secreted into the blood could be a source of biomarkers specific for CNS disorders.
Various studies have now demonstrated that EMVs are a general vehicle for cell-cell communication [10, 11]. EMVs carry cell-specific protein and RNA cargo and horizontally transfer these molecules into the target cell, resulting in a rapid change in transcriptome and proteome of the target cell. A similar function of BBB-derived EMVs in the cross-talk among cells of the NVU could be envisaged, in view of recently-described role of EMVs as communication vehicles among the various parenchymal cells of the CNS [16, 22, 23].
We propose that EMVs derived from BECs have the potential to be (i) a source of BEC/CNS specific biomarkers; (ii) communication vesicles within neurovascular unit, and (iii) 'transcytosing vesicles' containing specific RMT receptors. These hypothesized functional roles for BEC EMVs are illustrated in Figure
1
. This study provides initial supporting evidence for these proposed roles through analyses of molecular signatures of BEC EMVs using sensitive mass spectrometry (MS)-based proteomics protocols.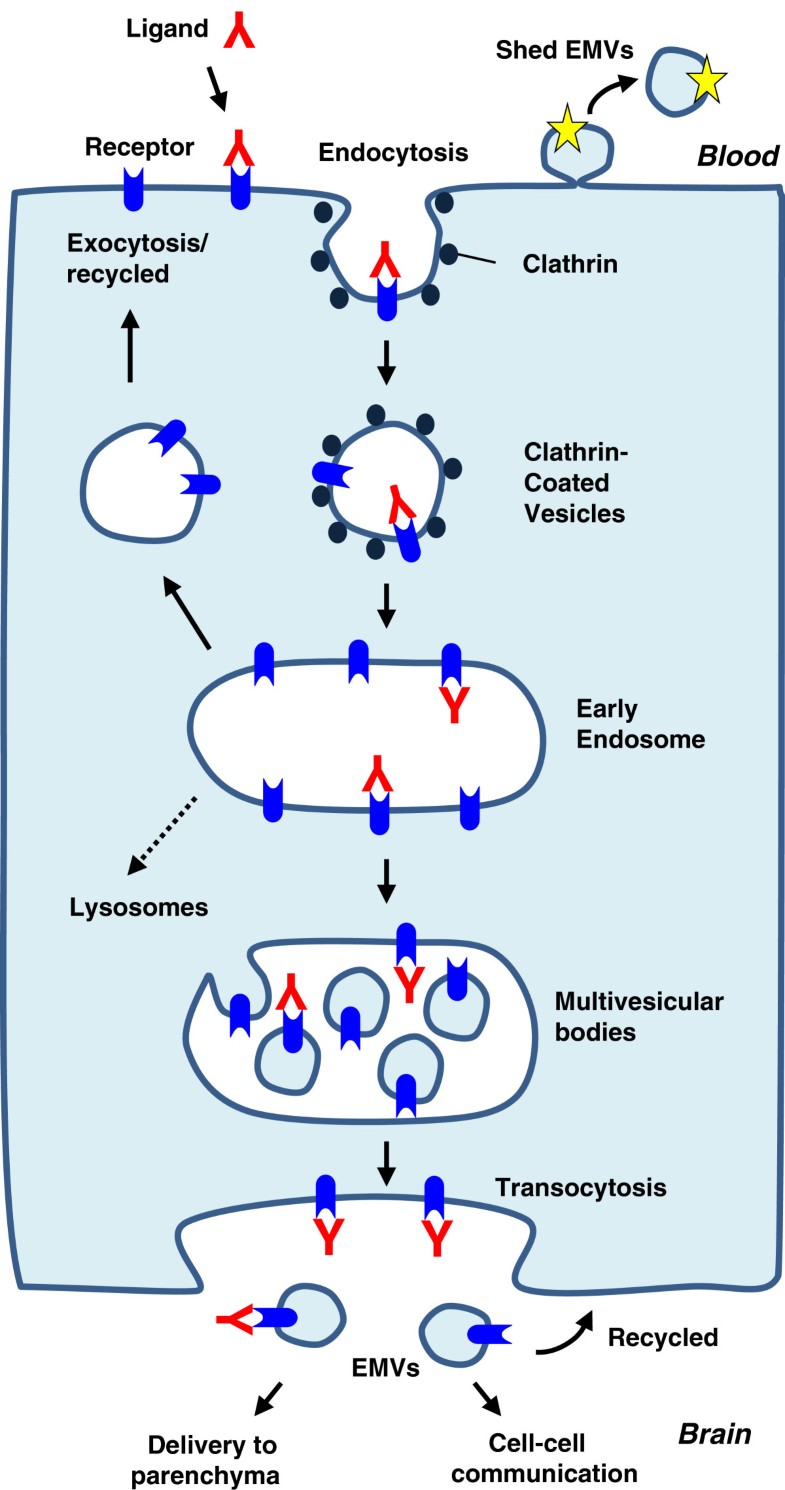 Discussion
This manuscript details methods for isolation as well as sensitive MS-based protocols for molecular analyses of EMVs from HBEC. Using these methods, 1179 unique proteins were identified in HBEC-EMVs. These methods, in combination with bioinformatics tools, were used to demonstrate that the isolated HBEC-EMVs (i) are not artifacts and contain intact, potentially post-translationally modified proteins, (ii) contain a majority of known exosome-specific proteins, as well as unique 'signature' proteins, (iii) contain proteins implicated in receptor-mediated transcytosis across the BBB.
Conclusions
The first comprehensive evaluation and cataloguing of proteins expressed in EMVs derived from brain endothelial cells described in this manuscript, demonstrated that these vesicles contain common proteins typical of exosomes from different tissues, as well as proteins that may be specific to unique functions of brain endothelial cells within the context of the neurovascular unit, including the transport of solutes and biologics across the blood–brain barrier.
Abbreviations
BEC:

Brain endothelial cell
CNS:

Central nervous system
DR:

Etergent removal
EMV:

Extracellular microvesicles
FASP:

Filtered-aided sample preparation
gel-LC:

Gel electrophoresis followed by nanoLC-MS/MS
HBEC:

Human BEC
LC:

Liquid chromatrography
MS:

Mass spectrometry
MS/MS:

Tandem MS
MVB:

Multivesicular bodies
NanoLC:

Nanoliter flow LC
NVU:

Neurovascular unit
RMT:

Receptor-mediated transcytosis
TFRC:

Transferrin receptor
WCE:

Whole-cell extract.
Declarations
Acknowledgements
We thank Dr. Pierre Olivier Couraud (Cochin Institute, Université Paris DescartesINSERM) for providing HCMEC/D3 cells and Dr. Graham Farrington (Biogen Idec, Cambridge MA) for providing anti VHH polyclonal serum for these studies. We also thank Wen Ding for help with MRM and acknowledge Luc Tessier and Anna Robotham for maintenance of nanoLC-MS instruments.
Authors' Affiliations
(1)
National Research Council of Canada, Human Health Therapeutics Portfolio, Ottawa,ON, Canada
Copyright
© Haqqani et al.; licensee BioMed Central Ltd. 2013
This article is published under license to BioMed Central Ltd. This is an Open Access article distributed under the terms of the Creative Commons Attribution License (http://creativecommons.org/licenses/by/2.0), which permits unrestricted use, distribution, and reproduction in any medium, provided the original work is properly cited.