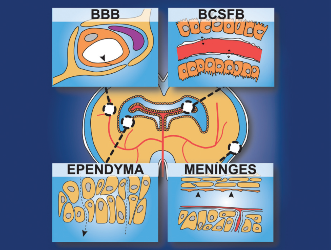 Fluids and Barriers of the CNS is an open access, peer-reviewed, online journal that considers manuscripts on all CNS fluids and barrier systems in health and disease.
Fluids and Barriers of the CNS is affiliated to the International Brain Barriers Society (IBBS) and the International Society for Hydrocephalus and CSF Disorders (ISHCSF).
Editors-in-Chief
Lester R Drewes, University of Minnesota, USA
Hazel C Jones, King's College London, UK
Richard F Keep, University of Michigan, USA
New thematic series
CNS Fluid and Solute Movement: Physiology, Modelling and Imaging.
Knowledge of the diverse routes and functions of fluid and solute movement in the CNS has implications for many devastating and currently incurable neurological diseases. The subject has become an area of intense research and debate. This thematic series aims to bring together a collection of current papers on all aspects of fluid movement in the brain, helping to address current controversies.
Presubmission enquiries welcome.
Journal News
We are very pleased to announce that FBCNS has been accepted for indexing in the Science Citation Index Expanded (SCIE) database, one of the major databases of the Clarivate Analytics (formerly Thomson Reuters) Web of Science.
We expect that our first Impact Factor will be announced in summer 2019.
Comorbidity of diabetes mellitus in idiopathic normal pressure hydrocephalus: a systematic literature review
Miles Hudson, Caden Nowak, Richard J. Garling and Carolyn Harris
Effect of extradural constriction on CSF flow in rat spinal cord
Joel A. Berliner, Thomas Woodcock, Elmira Najafi, Sarah J. Hemley, Magdalena Lam, Shaokoon Cheng, Lynne E. Bilston and Marcus A. Stoodley
2018 Travel Bursary Awards
We are pleased to announce the winners of the prizes for best oral or poster presentations awarded at Hydrocephalus 2018, Bologna, Italy.
1st: Saniya Mediratta (sponsored by ISHCSF)
2nd: Simon Agerskov (sponsored by FBCNS)
3rd joint: Anne Benninghaus (sponsored by FBCNS)
3rd joint: Claudia L Craven (sponsored by FBCNS)
Find out more about the awards and this year's winners here.