As a result of the significant disruption that is being caused by the COVID-19 pandemic we are very aware that many researchers will have difficulty in meeting the timelines associated with our peer review process during normal times. Please do let us know if you need additional time. Our systems will continue to remind you of the original timelines but we intend to be highly flexible at this time.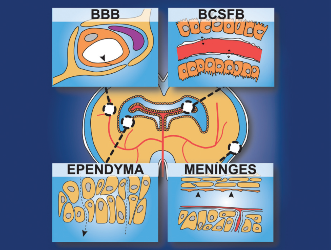 Fluids and Barriers of the CNS is an open access, peer-reviewed, online journal that considers manuscripts on all CNS fluids and barrier systems in health and disease.
Fluids and Barriers of the CNS is affiliated to the International Brain Barriers Society (IBBS) and the International Society for Hydrocephalus and CSF Disorders (ISHCSF).
Editors-in-Chief
Lester R Drewes, University of Minnesota, USA
Hazel C Jones, King's College London, UK
Richard F Keep, University of Michigan, USA
Journal News
We are pleased to announce that the official impact factor of FBCNS increased from 3.727 in 2019 to 4.470 in 2020.
2019 thematic series

Advances in in vitro modeling of the blood-brain barrier and neurovascular unit.

Our latest series address advances in in vitro modeling, including original research, reviews and commentaries (e.g. on future directions). Papers address the utility and limitations of such models in relation to BBB physiology, pathophysiology and pharmacology.
Advancing brain barriers RNA sequencing: guidelines from experimental design to publication
David M. F. Francisco, Luca Marchetti, Sabela Rodríguez-Lorenzo, Eduardo Frías-Anaya, Ricardo M. Figueiredo, BtRAIN Network, Peter Winter, Ignacio Andres Romero, Helga E. de Vries, Britta Engelhardt & Rémy Bruggmann
Location matters: highly divergent protein levels in samples from different CNS compartments in a clinical trial of rituximab for progressive MS
Joakim Bergman, Anders Svenningsson, Per Liv, Tommy Bergenheim & Joachim Burman
2019 Young Investigator Awards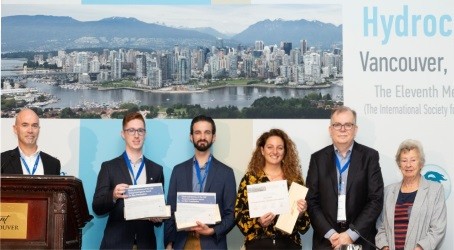 We are pleased to announce the winners of the awards for best oral or poster presentations sponsored by FBCNS for young investigators at Hydrocephalus 2019, the 11th meeting of the International Society for Hydrocephalus and Cerebrospinal Fluid Disorders, 13th-16th September Vancouver, Canada.
Nicholas Salterio
Lucas Sass
Linda D'Antona (sponsored by ISHCSF)
Find out more about this year's winners here.
2019 Travel Bursary Awards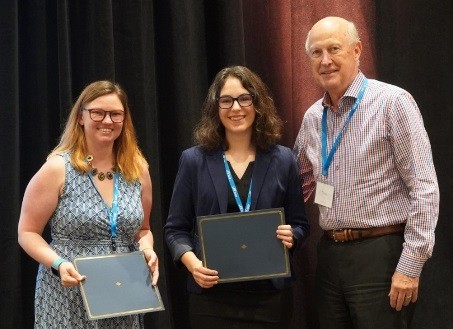 We are pleased to announce the winners of prizes for best presentations sponsored by FBCNS at the Cerebrovascular Biology Meeting in Miami, Florida, June 25-28, 2019.
Natasha O'Brown
Julia Schulz
Forthcoming Conferences
26th Annual Blood-Brain Barrier Consortium Meeting; Portland, Oregon, USA on March 12-13, 2020. https://www.ohsu.edu/bbbmeeting. Rescheduled - the new dates will be Oct 29-30 2020. Stay tuned for more details coming soon.
Barriers of the CNS Gordon Research Conference; Colby-Sawyer College in New London, New Hampshire, USA on June 14-19, 2020. https://www.grc.org/barriers-of-the-cns-conference/2020/. Withdrawn and rescheduled for 2022.
12th Meeting of the International Society for Hydrocephalus and CSF Disorders; Hydrocephalus 2020, Gothenburg, Sweden September 11-14, 2020. Postponed until September 10-13 2021. https://www.hydrocephalus-meeting.com/
International Symposium on Signal Transduction at the Blood-Brain Barriers; Bari, Italy, September 23-25, 2020. This conference has been postponed until further notice.
11th International Symposium on Neuroprotection and Neurorepair (ISN&N) and the 18th International Conference on Brain Edema and Cellular Injury (BEM); Berlin, Germany, October 5-7, 2020 https://www.neurorepair-symposium.de/. This conference has been postponed until 2022.
Society for Research into Hydrocephalus and Spina Bifida; 64th Annual Meeting 2020 – Doha, Qatar, November 4 – 7. https://srhsb.com/conferences/
Cerebral Vascular Biology meeting Uppsala, Sweden, 2021, June 20-24. https://www.ibbsoc.org/events-calendar/save-the-date-for-the-14th-save-the-date-for-the-14th-cerebral-vascular-biology-meeting-cerebral-vascular-biology-meeting