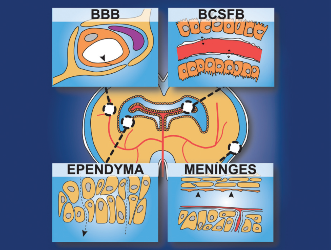 Fluids and Barriers of the CNS is an open access, peer-reviewed, online journal that considers manuscripts on all CNS fluids and barrier systems in health and disease.
Fluids and Barriers of the CNS is affiliated to the International Brain Barriers Society (IBBS) and the International Society for Hydrocephalus and CSF Disorders (ISHCSF).
Editors-in-Chief
Lester R Drewes, University of Minnesota, USA
Hazel C Jones, King's College London, UK
Richard F Keep, University of Michigan, USA
Journal News
We are pleased to announce that FBCNS now has an official Impact Factor of 3.727.
Latest thematic series
CNS Fluid and Solute Movement: Physiology, Modelling and Imaging.
Knowledge of the diverse routes and functions of fluid and solute movement in the CNS has implications for many devastating and currently incurable neurological diseases. The subject has become an area of intense research and debate. This thematic series aims to bring together a collection of current papers on all aspects of fluid movement in the brain, helping to address current controversies.
The need for mathematical modelling of spatial drug distribution within the brain
Esmée Vendel, Vivi Rottschäfer and Elizabeth C. M. de Lange
The endo-lysosomal system of bEnd.3 and hCMEC/D3 brain endothelial cells
Andrea E. Toth, Simone S. E. Nielsen, Weronika Tomaka, N. Joan Abbott and Morten S. Nielsen
2019 Travel Bursary Awards
We are pleased to announce the winners of prizes for best presentations sponsored by FBCNS at the Cerebrovascular Biology Meeting in Miami, Florida, June 25-28, 2019.
Natasha O'Brown
Julia Schulz
Find out more about the awards and this year's winners here.
Forthcoming meetings