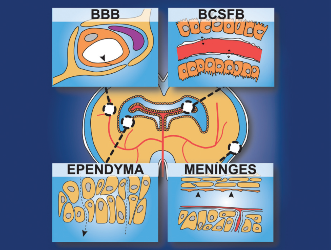 Fluids and Barriers of the CNS is an open access, peer-reviewed, online journal that considers manuscripts on all CNS fluids and barrier systems in health and disease.
Fluids and Barriers of the CNS is affiliated to the International Brain Barriers Society (IBBS) and the International Society for Hydrocephalus and CSF Disorders (ISHCSF).
Editors-in-Chief
Lester R Drewes, University of Minnesota, USA
Hazel C Jones, King's College London, UK
Richard F Keep, University of Michigan, USA
Journal News
We are pleased to announce that the official impact factor of FBCNS increased from 3.727 in 2019 to 4.470 in 2020.
2019 thematic series

Advances in in vitro modeling of the blood-brain barrier and neurovascular unit.

Our latest series address advances in in vitro modeling, including original research, reviews and commentaries (e.g. on future directions). Papers address the utility and limitations of such models in relation to BBB physiology, pathophysiology and pharmacology.
The potential role of microvascular pathology in the neurological manifestations of coronavirus infection
M. A. MacLean, L. Kamintsky, E. D. Leck & A. Friedman
Non-invasive measurement of choroid plexus apparent blood flow with arterial spin labeling
Li Zhao, Manuel Taso, Weiying Dai, Daniel Z. Press & David C. Alsop
Young Investigator Awards
Fluids and Barriers of the CNS Young Investigator Awards have been suspended for 2020 and will return in 2021 when international conferences resume.
Forthcoming Conferences
26th Annual Blood-Brain Barrier Consortium Meeting; Portland, Oregon, USA on March 12-13, 2020. https://www.ohsu.edu/bbbmeeting. Rescheduled - the new dates will be March 11-12, 2021. Stay tuned for more details coming soon.
Barriers of the CNS Gordon Research Conference; Colby-Sawyer College in New London, New Hampshire, USA on June 14-19, 2020. https://www.grc.org/barriers-of-the-cns-conference/2020/. Withdrawn and rescheduled for 2022.
12th Meeting of the International Society for Hydrocephalus and CSF Disorders; Hydrocephalus 2020, Gothenburg, Sweden September 11-14, 2020. Postponed until September 10-13 2021. https://www.hydrocephalus-meeting.com/ In the meantime, the Society has scheduled a series of 6 Global Webinars on hydrocephalus starting November 20th 2020, with accreditation. https://www.hydrocephalus-meeting.com/global-webinar-series-2020-2021/
Hydrocephalus Society Global Webinar Series Program
International Symposium on Signal Transduction at the Blood-Brain Barriers; Bari, Italy, September 23-25, 2020. This conference has been re-scheduled for 22-23 September 2021
11th International Symposium on Neuroprotection and Neurorepair (ISN&N) and the 18th International Conference on Brain Edema and Cellular Injury (BEM); Berlin, Germany, October 5-7, 2020 https://www.neurorepair-symposium.de/. This conference has been postponed until 2022.
Society for Research into Hydrocephalus and Spina Bifida; 64th Annual Meeting 2020 – Doha, Qatar, November 4 – 7. https://srhsb.com/conferences/
Cerebral Vascular Biology meeting Uppsala, Sweden, 2021, June 20-24. https://www.ibbsoc.org/events-calendar/save-the-date-for-the-14th-save-the-date-for-the-14th-cerebral-vascular-biology-meeting-cerebral-vascular-biology-meeting