FBCNS was proud to award two journal-sponsored prizes at Hydrocephalus 2019 in Vancouver, Canada, 13-16 September 2019.
The awardees were:
Lucas Sass, University of Idaho, USA.
Nicolas Salterio, University of British Columbia, Canada
About the winners
Lucas Sass for his presentation: In vitro model of solute transport in the human cerebrospinal fluid system.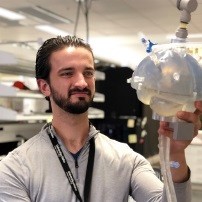 I am currently a PhD candidate working with Dr. Bryn Martin in the Neurophysiological Imaging and Modeling Laboratory at the University of Idaho. My thesis is focused around in-vitro modelling of solute transport dynamics in the human cerebrospinal fluid system. To do this, we have developed a 3D-printed CSF phantom to better understand the impact of physiologic boundary conditions on CSF dynamics. In turn, we can perform variational analysis to optimize therapeutic approaches such as intrathecal drug delivery and CSF filtration. I was pleased to present a portion of this work in the young investigators competition at Hydrocephalus 2019 and thank the organizing committee for the opportunity. Attending a conference with a clinical focus has given me new ideas for how engineers can better work with clinicians to find solutions for complex diseases. I especially enjoyed the IHIWG sessions and the opportunities to build collaborations with other talented investigators.
Nicholas Salterio for his presentation: Long–term improvement of gait and cognition after primary Endoscopic Third Ventriculostomy (ETV) in adult obstructive hydrocephalus.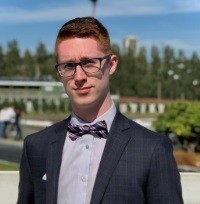 I am a Master of Science student in Experimental Medicine under Dr. Thomas Zwimpfer's supervision at the University of British Columbia and Vancouver General Hospital. My presented project focused on the outcomes of obstructive hydrocephalus' chronic symptomatology after treatment with endoscopic third ventriculostomy. I would like to thank the Fluids and Barriers of the CNS for investing in young scientists through sponsoring the Young Investigator Awards at the Hydrocephalus 2019 conference in Vancouver. It was a pleasure to hear and learn about the work my peers are doing across the world to better understand and treat this disease. I gained new collaborators, friends, and mentors in the field at the conference.