Multiplicity of cerebrospinal fluid functions: New challenges in health and disease
Cerebrospinal Fluid Research
2008
5:10
Received: 10 August 2007
Accepted: 14 May 2008
Published: 14 May 2008
Abstract
This review integrates eight aspects of cerebrospinal fluid (CSF) circulatory dynamics: formation rate, pressure, flow, volume, turnover rate, composition, recycling and reabsorption. Novel ways to modulate CSF formation emanate from recent analyses of choroid plexus transcription factors (E2F5), ion transporters (NaHCO3 cotransport), transport enzymes (isoforms of carbonic anhydrase), aquaporin 1 regulation, and plasticity of receptors for fluid-regulating neuropeptides. A greater appreciation of CSF pressure (CSFP) is being generated by fresh insights on peptidergic regulatory servomechanisms, the role of dysfunctional ependyma and circumventricular organs in causing congenital hydrocephalus, and the clinical use of algorithms to delineate CSFP waveforms for diagnostic and prognostic utility. Increasing attention focuses on CSF flow: how it impacts cerebral metabolism and hemodynamics, neural stem cell progression in the subventricular zone, and catabolite/peptide clearance from the CNS. The pathophysiological significance of changes in CSF volume is assessed from the respective viewpoints of hemodynamics (choroid plexus blood flow and pulsatility), hydrodynamics (choroidal hypo- and hypersecretion) and neuroendocrine factors (i.e., coordinated regulation by atrial natriuretic peptide, arginine vasopressin and basic fibroblast growth factor). In aging, normal pressure hydrocephalus and Alzheimer's disease, the expanding CSF space reduces the CSF turnover rate, thus compromising the CSF sink action to clear harmful metabolites (e.g., amyloid) from the CNS. Dwindling CSF dynamics greatly harms the interstitial environment of neurons. Accordingly the altered CSF composition in neurodegenerative diseases and senescence, because of adverse effects on neural processes and cognition, needs more effective clinical management. CSF recycling between subarachnoid space, brain and ventricles promotes interstitial fluid (ISF) convection with both trophic and excretory benefits. Finally, CSF reabsorption via multiple pathways (olfactory and spinal arachnoidal bulk flow) is likely complemented by fluid clearance across capillary walls (aquaporin 4) and arachnoid villi when CSFP and fluid retention are markedly elevated. A model is presented that links CSF and ISF homeostasis to coordinated fluxes of water and solutes at both the blood-CSF and blood-brain transport interfaces.
Outline
1 Overview
2 CSF formation
2.1 Transcription factors
2.2 Ion transporters
2.3 Enzymes that modulate transport
2.4 Aquaporins or water channels
2.5 Receptors for neuropeptides
3 CSF pressure
3.1 Servomechanism regulatory hypothesis
3.2 Ontogeny of CSF pressure generation
3.3 Congenital hydrocephalus and periventricular regions
3.4 Brain response to elevated CSF pressure
3.5 Advances in measuring CSF waveforms
4 CSF flow
4.1 CSF flow and brain metabolism
4.2 Flow effects on fetal germinal matrix
4.3 Decreasing CSF flow in aging CNS
4.4 Refinement of non-invasive flow measurements
5 CSF volume
5.1 Hemodynamic factors
5.2 Hydrodynamic factors
5.3 Neuroendocrine factors
6 CSF turnover rate
6.1 Adverse effect of ventriculomegaly
6.2 Attenuated CSF sink action
7 CSF composition
7.1 Kidney-like action of CP-CSF system
7.2 Altered CSF biochemistry in aging and disease
7.3 Importance of clearance transport
7.4 Therapeutic manipulation of composition
8 CSF recycling in relation to ISF dynamics
8.1 CSF exchange with brain interstitium
8.2 Components of ISF movement in brain
8.3 Compromised ISF/CSF dynamics and amyloid retention
9 CSF reabsorption
9.1 Arachnoidal outflow resistance
9.2 Arachnoid villi vs. olfactory drainage routes
9.3 Fluid reabsorption along spinal nerves
9.4 Reabsorption across capillary aquaporin channels
10 Developing translationally effective models for restoring CSF balance
11 Conclusion
Keywords
HydrocephalusAtrial Natriuretic PeptideChoroid PlexusNormal Pressure HydrocephalusCongenital Hydrocephalus
1 Overview
Free-flowing cerebrospinal fluid (CSF) finely-regulated in composition is vital to brain health [
1
,
2
]. Aging- or disease-induced alterations in CSF circulation adversely impact neuronal performance [
2
,
3
]. Throughout life the choroid plexus (CP)-CSF dynamics are damaged by tumors, infections, trauma, ischemia or hydrocephalus [
4
–
8
]. Severely disrupted CSF flow disturbs cognitive and motor functions [
9
]. CNS viability is taxed if key choroidal-CSF parameters are distorted. For health and disease it is essential to delineate interactions of CP and brain with the intervening CSF (Fig.
1
).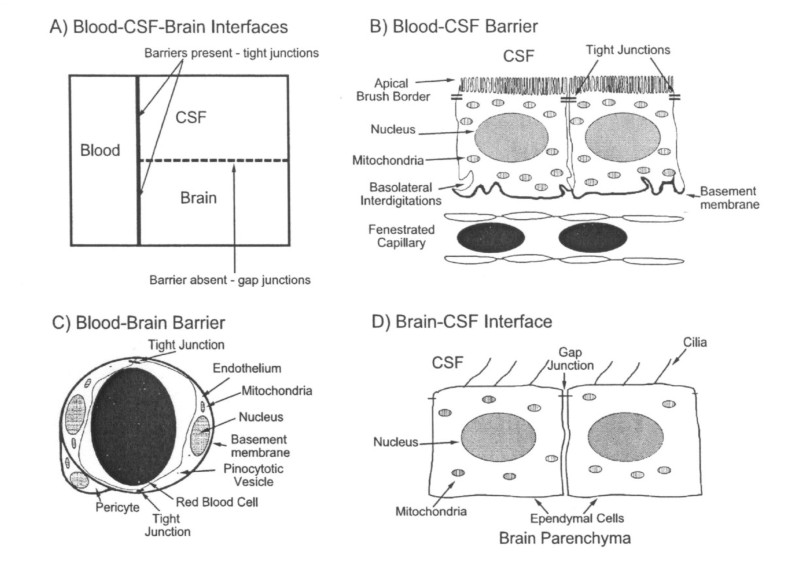 Improved biotechnology and models can now precisely evaluate the role of the CP-CSF in modulating brain development, metabolism and aging [10–12]. Alternative transplant [13–15] and pharmacological strategies [16–18] utilizing the CP may be helpful in rescuing the debilitated CSF system. Such therapy to rectify CSF parameters would ultimately benefit neuronal network functions. This review sets forth new approaches to stabilize the CSF in disease or curb its deterioration in late-life stages [19].
CSF assessment should collectively consider physical, biochemical and physiological parameters (Table
1
). In addition, the large-cavity CSF system is multi-compartmental (Fig.
2
). Ventricles, cisterns and subarachnoid space (SAS) are serially linked. Upstream CSF transport phenomena exert effects downstream. Ventricular CSF is functionally interactive with the ependymal wall [
1
] as well as the more deeply-lying brain capillary surfaces [
16
,
17
]. Diffusion and bulk flow promote solute and water distribution both into and out of brain, depending upon prevailing regional gradients for concentration and hydrostatic pressure in various compartments (Fig.
1
). It is thus pertinent to analyze CNS fluid spaces- how they are disrupted by ventricular dysfunction and might be modified by CSF-borne therapeutic agents. This should promote translational steps for managing CSF in neurodegenerative diseases and other disorders.
Table 1
Physico-chemical properties and physiological parameters of the CSF system
| | |
| --- | --- |
| CSF Formation Rate | Produced mainly by choroid plexuses, CSF is formed at 0.4 ml/min/g in several mammals. Human production rates vary from 0.3 to 0.6 ml/min depending upon measurement method. CSF formation, an active secretion by epithelial cells, involves pumps, cotransporters & antiporters, ion channels and aquaporins [1, 77]. It is under neuroendocrine & hormonal modulation [6, 246]. Daily volume of CSF produced in adult humans is 500–600 ml. |
| CSF Pressure | In adult humans the normal CSFP is about 100 mm H2O. Ventricular pressure is normally about 35 mm H20 in rats. CSFP is typically slightly higher than venous pressure in the dural sinuses. CSFP is stable when CSF formation and reabsorption are balanced. Elevated CSFP is reduced by acetazolamide, which inhibits formation of fluid by the choroid plexus [36, 43, 44]. |
| CSF Flow | Flow of CSF is pulsatile [185, 192]. CSF pulsations depend upon the arterial hemodynamics in the plexus. CSF flow is from the lateral to 3rd and 4th ventricles. CSF flows out of 4th ventricular foramina into basal cisterns [1]. It is then convected into the spinal and cortical subarachnoid spaces. |
| CSF Volume | In healthy humans, the ventricular and subarachnoid CSF spaces, respectively, are about 25% and 75% of total CSF volume [1]. Total CSF space in young adults is about 160 ml, i.e., more than half that of brain interstitial fluid volume. The ratio of CSF volume to brain volume increases in aging and neurodegeneration [9, 19]. |
| CSF Turnover Rate | CSF turnover rate is directly proportional to CSF formation rate and inversely related to CSF volume [3]. It is an index of CSF sink action on brain interstitial solutes [33]. Clearance of brain metabolites depends on a CSF renewal of 0.3–0.4% per min. Mammalian CSF is totally replaced about 4 times each day. |
| CSF Composition | CSF is an active secretion, not simply a plasma ultrafiltrate [1]. Carrier transport of ions and molecules, along with molecular sieving at blood-CSF barrier, generates a CSF concentration lower than plasma in protein, K [221] & urea [33]; and higher in Cl & Mg. Disease distorts CSF chemistry, enabling CSF biomarking [227]. CSF is 99% water, compared to the 92% water of plasma. |
| CSF Recycling | In addition to CSF macrocirculation through ventriculo-subarachnoid spaces, there is limited microcirculation of CSF recirculated by bulk flow from the cortical subarachnoid space into Virchow-Robin perivascular spaces and then out of brain via CSF drainage routes [253–255]. |
| CSF Reabsorption | CSF is cleared from CNS by bulk flow along sleeves of the subarachnoid space surrounding cranial nerves that enter the nose and eyes [263, 264]. Substantial drainage occurs through the cribriform plate, the CSF eventually reaching the nasal submucosa and downstream cervical lymphatics [267, 268]. CSF is also cleared along spinal nerves [279]. Lymphatic drainage of CSF needs substantiation in humans. Arachnoid villi in dural venous sinuses may serve as ancillary drainage sites when CSFP is elevated. |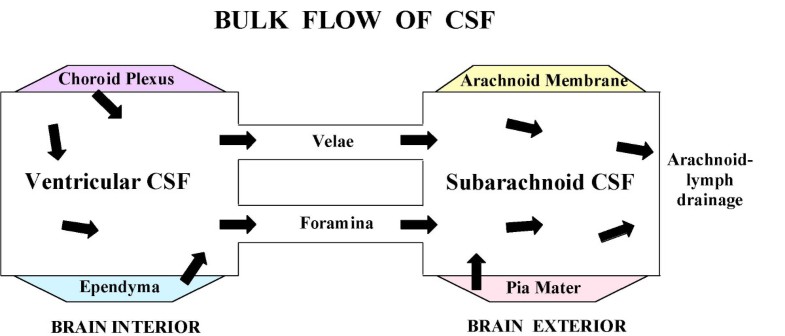 2 CSF formation
Several CNS regions form CSF or a CSF-like fluid. Although CP tissues generate about two thirds of the total production, extrachoroidal sources make up the balance [20]. The capillary-astrocyte complex in the blood-brain barrier (BBB) has been implicated as an active producer of brain interstitial fluid (ISF) [21], but normally at a rate substantially slower (1/100 when normalized for barrier surface area) than the blood-cerebrospinal fluid barrier BCSFB [22]. The working hypothesis that the BBB is a fluid generator, although attractive, needs substantiation. Another likely source of CSF, according to Pollay and Curl, is the ependyma lining the ventricles [23]. The arachnoid membrane with its relatively large surface area, although secreting peptides and proteins [24], probably does not actively form CSF. Because CP rapidly produces most of fluid within the CNS and has been extensively documented for CSF-forming capabilities [1], the discussion below focuses on choroidal epithelium.
Originating in the ventricular interior of the brain, nascent CSF is continuously produced by the CPs in the lateral, 3
rd
and 4
th
ventricles. Because CNS metabolism is profoundly affected by CSF transport, it is imperative to delineate the physiological and molecular processes in CP that effect CSF secretion. CSF formation occurs in two stages: passive filtration of fluid across choroidal capillary endothelium [
25
], followed by a regulated active secretion across a single-layered epithelium (Fig.
3
). Scores of investigations have characterized solute movement from blood to CSF by diffusion, facilitated transport and active transport. Such studies elucidate the nature and uniqueness of fluid transfer across the BCSFB.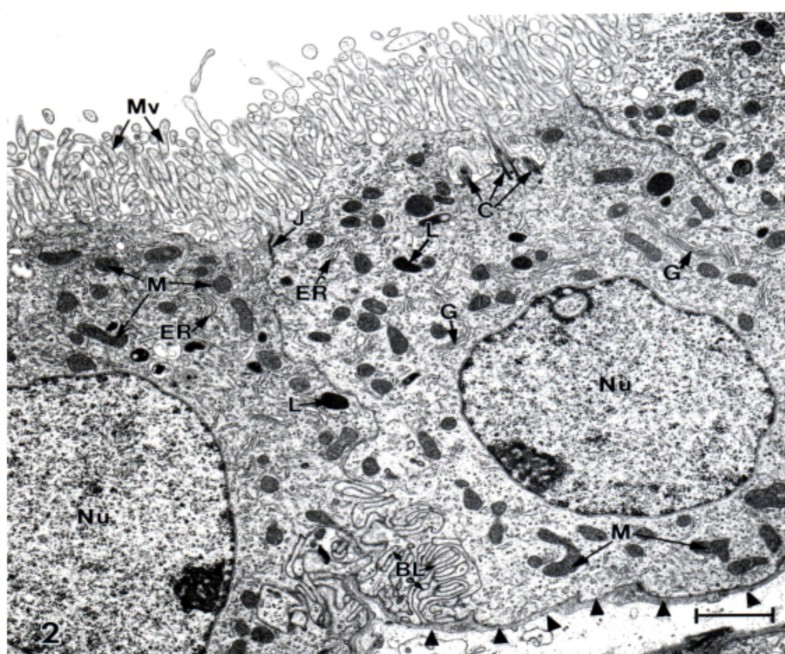 Fluid is generated at a high capacity by the choroid plexus epithelial (CPe) cells [1]. The CPe secretory engine is fueled by a brisk arteriolar input of organic substrates and water to the extensive capillary plexus [1]. A blood flow of about 4 ml/min/g CP is converted to a CSF formation in mammals of approximately 0.4 ml/min/g. The smallest mammalian species in which formation rate has been quantified is the mouse which produces CSF at 3.3 × 10-4 ml/min [26]. If one extrapolates animal data to humans on the basis of CSF produced per volume of brain tissue, human CSF production should be about 0.8 ml/min. Measurements to date, however, show that human CSF production is roughly one-half that rate [3].
CSF formation begins as plasma is filtered across permeable choroidal capillaries [25]. Net filtration is proportional to the hydrostatic pressure gradient between blood and choroid interstitial fluid (ISF). Normally, in accord with Starling's law of filtration, fluid flows freely from plasma into ISF at the basolateral surface of the epithelial cells. Reduced blood flow to the plexus, via rate-limited tissue perfusion, curtails plasma filtration into the interstitium. Consequently in acute hydrocephalus the substantially elevated ventricular CSF pressure, when retrogradely transmitted to choroidal ISF, reduces plasma exudation into ISF. This decreases CSF formation. However with normal choroidal perfusion and CSF hydrodynamics, a continual stream of plasma ultrafiltrate (ions and water) is presented for fluid manufacture to transporters at the basolateral side of the epithelium.
Transchoroidal secretion of water, ions and macromolecules drives the volume transmission of CSF (Fig.
2
) down the ventriculo-cisternal axis [
27
]. Actively formed CSF stems from coordinated secretion of solutes across the thin epithelial interface (Fig.
3
) between the inner choroidal plasma and outer ventricular fluid. The CP epithelium is polarized both structurally (Fig.
3
) and functionally (Figs.
4
and
5
). Pharmacological modeling of CSF dynamics is necessarily built on foundational knowledge of plexus blood flow as well as epithelial metabolism and transport (Fig.
5
).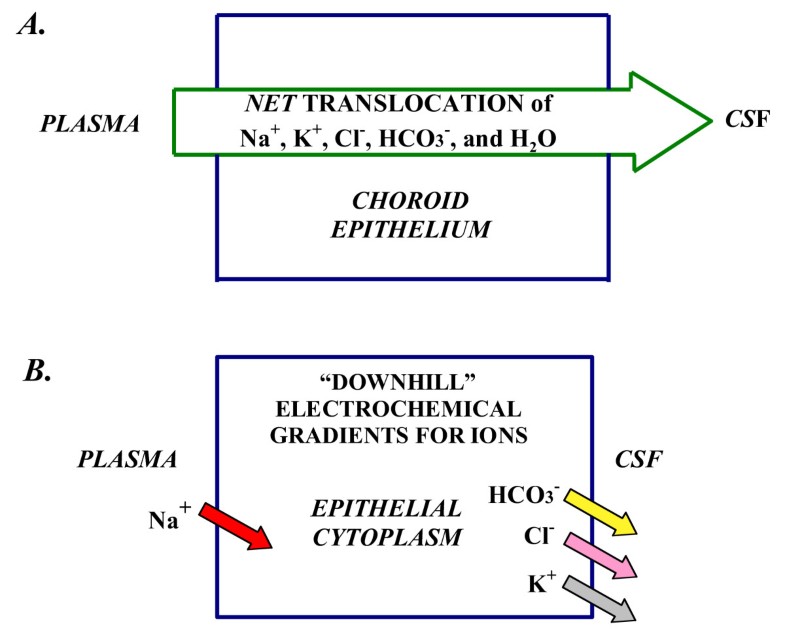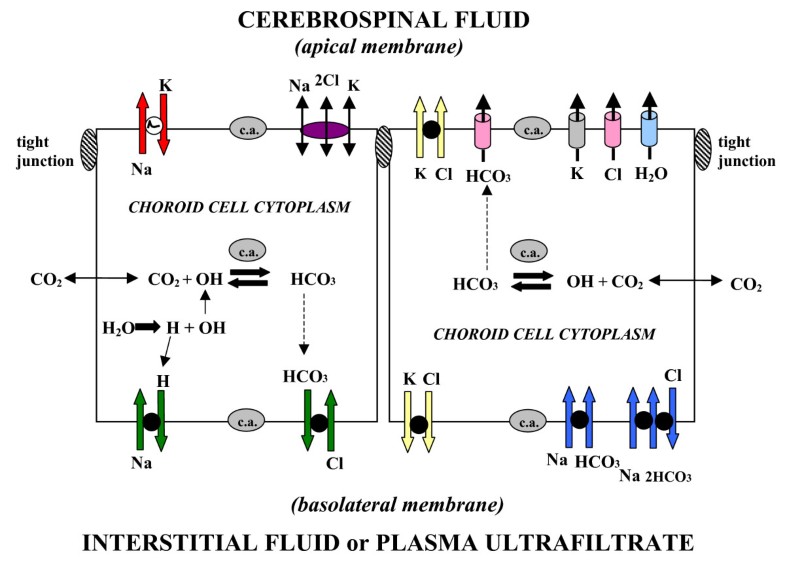 CSF formation involves an intricate array of transporters and channels in CPe. Salient elements of this complex process deserve highlighting. Accordingly, Fig. 4 schematically illustrates how choroid epithelial polarity (sidedness) relates to transcellular movement of solutes across the BCSFB. Although bidirectional transport of ions occurs at both poles of choroid epithelial cells, CSF formation is essentially the net transport of Na+, Cl-, K+, HCO3- and water from plasma to CP to CSF (Fig. 4A). Ions and water are taken up by facilitating mechanisms at the basolateral membrane, convected through cytoplasm, and then released or actively secreted into the ventricles on the apical side. Vectorially, favorable electrochemical gradients (energetically downhill) exist for Na+ movement inward at the plasma side and for K+, Cl- and HCO3- diffusion outward at the CSF side (Fig. 4B). Facilitated water flux via aquaporin (AQP) channels osmotically balances the collective ion transport and furnishes the medium for CSF circulation.
CSF generation is a cardinal feature of brain fluid homeostasis [1]. To finely control the CSF formation rate is a challenge in treating diseases related to brain fluid disorders. Historically, emphasis has been placed on discovering new agents to relieve elevated CSF pressure (CSFP), i.e., intracranial pressure (ICP), in pediatric hydrocephalus patients. Projections point to the additional compelling need for increasing CSF turnover rate in geriatric patients, since many are taking diuretics and digitalis preparations that reduce CSF formation. This implicates a wider spectrum of CSF pharmacology. To individualize therapy for normal-pressure and high-pressure hydrocephalus, there should be a drug repertoire for up- and down-regulating CSF formation rates.
Pharmacological targeting to modify CSF production by the CP will advance as cellular mechanisms are elucidated. To date, acetazolamide and furosemide are among only a few agents that have had clinical usefulness in controlling CSF formation and ICP, but side effects limit their usage [
28
,
29
]. Clearly, new agents are needed to restore CSF dynamics altered by disease and injury. Theoretically, nuclear, cytoplasmic and plasma membrane constituents are potential sites for drug actions to accelerate or reduce CSF production. Transcription factors in the nucleus, enzymes in the cytoplasm, and transporters/channels and receptors at the limiting plasma membrane are all potential drug targets. Five approaches to modify CSF formation rate, i.e., cutting-edge as well as established, are recapitulated in Table
2
and elaborated below:
Table 2
Strategies for pharmacologically manipulating the rate of CSF formation by the epithelial cells of choroid plexus
- Modulation of transcription factors or nuclear receptors that control expression of enzymes involved in CSF formation
   Molecular targets: p73, foxJ1, and E2F5 [30, 31]
- Interference with the basolateral and apical membrane-associated ion translocaters (cotransporters, exchangers and pumps)
   Molecular targets: Na-K-Cl cotransporter [45–48]; Na-H exchanger [36–38]; Cl-HCO3 exchanger [40, 55]; Na pump [49, 106, 107, 110] Na-HCO3 cotransporter [41]; Na-dependent Cl-HCO3 exchanger [42] K and anion channels in apical membrane [68]
- Inhibition of the enzymatic generation of labile ions in cytoplasm and in microdomains of the plasma membrane
   Molecular targets: carbonic anhydrase isoforms [43, 44, 52, 53, 56–58]
- Regulation of the expression and activity of aquaporin water-conducting channels in the apical (CSF-facing) plasma membrane
   Molecular target: Aquaporin 1 channel [65–68, 70–78, 292]
- Stimulation of plasma membrane receptors for fluid-regulating neuropeptides
   Molecular targets: V1 receptor [83, 84, 90, 207, 210, 217]; NPR receptors [85, 97, 101, 103]; AT1 receptor [217]
3 CSF pressure
CSFP or ICP rises rapidly when there is a significant imbalance between CSF formation and drainage. Augmented ICP reduces cerebral blood flow (CBF) and oxygenation and, at the molecular level, may alter protein expression in neurons and glia. Therefore, because of potentially devastating effects of elevated ICP on brain functions, it is clinically important to assess factors that regulate CSF pressure and devise more effective ways to monitor and manage distorted ICP.
4 CSF flow
CSF flow pathways need elucidation for both healthy and diseased brain. Choroidally secreted CSF flows down the neuraxis to the 4th ventricle and then out through hindbrain foramina into the cisterna magna and the subarachnoid space in basal regions. In addition to this classically-described pathway, new evidence indicates that ventricular CSF also flows by another route to the basal and midbrain cisterns, i.e., into subarachnoid extensions [167] of the velum interpositum (from dorsal 3rd ventricle) and superior medullary velum (rostral 4th ventricle). Additional evaluation is needed for the limited CSF flow from cisterna magna to cortical subarachnoid regions and arachnoid villi [168], and for the possible shunting of CSF bulk flow between the ventricles and injured/edematous brain parenchyma [169]. Insight gained on CSF distribution routes will benefit pharmaco-therapeutic regimens.
5 CSF volume
Maintaining normal CSF volume is indispensable to brain health. CSF volume ranges from the greatly reduced spaces in slit ventricle syndrome to the ventriculomegaly of severe hydrocephalus. The dynamics of ventricular contraction and expansion are poorly understood but likely involve the interplay of three main factors: changes in brain tissue properties (e.g., compliance), CSF dynamics and vascular parameters. CSF volume can be significantly altered iatrogenically by suboptimal rate of CSF flow through shunts. Disorders that rupture the BBB and BCSFB also modify ventricular volume. Understanding CSF volume is important because of the impact on neuronal function exerted by changes in cerebral metabolism and blood flow. Therefore, information is needed on the rate and extent of regional CSF volume adjustments.
Maintaining the appropriate size of the ventriculo-cisternal-subarachnoid compartments is biophysically and biochemically complex. CSF volume in adult mammals ranges from about 0.04 ml in mice [77] to approximately 150–160 ml in humans [3]. Over an organism's lifespan, the CSF volume is variably set to a higher or lower degree in response to stressors. Hypoperfusion of the plexuses [186–188] interrupts the O2 supply and severely compromises the BCSFB and ventricular integrity. Hyperthermia also devastates the CP-ventricle nexus. By way of osmotic and autonomic disruptions between the CP and CSF, hyperthermia causes an edematous expansion of the CNS parenchyma [189]. On the other hand, ventricular volume can contract as occurs in slit-ventricle syndrome [190]. Transgenic, hydrocephalic and hypertensive models inform on ontogenetic, physical and physiologic factors that alter ventricular volume. The discussion below treats the overlapping actions of vascular, hydrodynamic and neuroendocrine phenomena in regulating ventricle size.
5.1 Hemodynamic factors
CSF volume importantly adjusts to physiological variations in cerebral blood volume (CBV). Thus an increased amount of blood within the cerebrovascular system leads to a displacement, and to a reduced volume, of CSF. Conversely, a decrease in CBV can result in an augmented volume of CSF. This more-or-less reciprocal relationship between CBV and CSF volume reflects the fact that, according to the Munro-Kelly doctrine [191], the combined volume of blood, CSF and brain remains relatively constant in the intracranial space bounded by the rigid skull. Consequently, in order to regulate pressure within the CNS, the CSF is a useful physical buffer that helps to accommodate changes in brain blood supply.
Physical aspects of choroidal hemodynamics also significantly affect CSF volume. There is a brisk, pulsating blood flow of 3–4 ml/g/min to the plexus [108, 109]. This strong arterial pulse is transmitted across the choroidal epithelial membranes to CSF. Therefore nearly all CSF motion is pulsatile. It has long been known that CSF dynamics are markedly impacted by vascular pressure waves in CP [114]. Hyperdynamic upstream CP pulsations dilate the cerebral ventricles when there is increased impedance to the flow of CSF pulsations in the SAS [192]. As downstream CSF impedance rises, there is redistribution of CSF pulses from the subarachnoid compartment back to the ventricles and the capillary-venous circulation. Egnor and colleagues propose that communicating hydrocephalus with ventriculomegaly results from pulse redistribution within the cranial cavity [192].
5.2 Hydrodynamic factors
Hypo-secretion of CSF, presumably occurring consequent to disrupted bicarbonate transport in CP of SLC4 knockout mice, drastically reduces ventricular volume [193]. On the other hand, hypersecretion of CSF by an actively metabolizing CP papilloma [194], predisposes to ventricular expansion. Thus, altered transport and permeability at the choroidal blood-CSF interface significantly bears on the ventricular volume.
The spontaneously hypertensive rat model (SHR) also reveals the significance of BCSFB transport and fluid formation in regulating fluid volume within the CNS interior. SHR displays a ventriculomegaly [127, 195] that likely results from markedly transformed CP functions. Ions, water and non-electrolytes more readily penetrate the blood-CSF barrier of SHR compared with non-hypertensive Wistar-Kyoto (WKY) controls [196]. The CPe of SHR rats consistently has a greater number of mitochondria, increased Golgi processing and enhanced transport activity [197]. The higher permeability of the blood-CSF interface in SHR allows greater penetration of organic solutes such as sucrose from blood to CSF [196]. Increased activity of the Na+-K+-2Cl- cotransporter [198] which promotes fluid transfer in CP [1], also occurs in SHR. Greater permeability and secretion at the CP in SHR would promote faster transfer of fluid into the ventricles. This is consistent with the ventricular expansion in SHR [127, 195]. According to the Egnor model [192], the larger pulse amplitude of the transmitted arterial pulse in the SHR would also be a factor causing ventriculomegaly.
Other injury models of the blood-CSF barrier shed light on dysregulated ventricular volume. Acute arterial hypertension in adult rats transiently opens the BCSFB allowing plasma proteins to leak into the ventricles [199]. Pathological disturbances that enhance CP permeability lead to macromolecule accumulation in the normally low-protein CSF. This increases the osmotic pressure of CSF and draws water into the ventricles. Transient forebrain ischemia also disrupts choroidal ultrastructure and transporters [187], causing a temporary loss of CSF homeostasis. Further analyses of hypertensive and ischemic insults to the choroidal circulation should delineate repair mechanisms [125] that restore homeostasis of the CPe and ventricular volume.
5.3 Neuroendocrine factors
Peptidergically-regulated fluid transfer at the BCSFB and BBB [200, 201] helps to set the volume and composition of CSF and brain ISF, respectively. Moreover the fine tuning of fluid exchange at the ependymal interface, mediated by neuropeptides [202] and growth factors [125], effects fluid balance between the ventricles and interstitium. When these coordinated homeostatic mechanisms at the transport interfaces are upset, the ventricles can either expand or contract.
At the blood-CSF interface in CP, there is a complex interplay among ANP, AVP and FGF2 and their apical membrane receptors to control ion and water secretion into the ventricles. This trio of peptides down-regulates CSF formation via neuroendocrine effects on CPe [2, 6, 17, 81–87]. ANP, AVP and FGF2 levels in the CP-CSF system are mainly under central control [6, 98, 203–208] and thus largely independent of plasma and peripheral effects. When the CNS is perturbed biochemically or physically, these peptidergic systems are activated to restore normal hydration and osmolality. By these mechanisms, extracellular as well as intracellular fluid volumes in CNS are stabilized [209].
Ventricle size is affected by peptide regulation of CSF output from CP. FGF2 has many physiological roles, but a newly appreciated one is fluid regulation. Exogenously administered FGF2 both in vivo and in vitro reduces CSF formation [178, 179]. This FGF2-induced suppression of fluid generation is evidently promoted by the choroidal release of the CSF inhibitor, AVP [210]. FGF2 and AVP expression in the CPe, like that of the hypothalamus-pituitary axis, is sensitive to the water balance of the organism [208, 211]. It is intriguing that in the growing SHR the continually declining FGF2 level in CPe (and perhaps a resultant diminishing inhibitory tone on CSF production) is temporally associated with progressively increasing ventricle size [195]. Collective evidence implicates choroidal FGF2 in ventricular volume regulation.
ANP is also regarded as a volume-regulating peptide [212]. Several investigators report that choroidal ANP receptors in the ventriculomegalic SHR rat are down regulated [103, 213–216]. Therefore, the reduced ANP tone lowers the generation of the CSF-inhibiting second messenger, cGMP, in the CPe of SHR [103]. A downloader of extracellular fluid volume in peripheral systems, ANP may have a similar function in the CNS. ANP receptor impoverishment in the CP of SHR rats [103, 213–216] may cause less inhibition of CSF production and the related ability to maintain normal ventricular volume. Accordingly, the observed increase in CSF formation in the SHR [196], possibly due to attenuated natriuretic modulation, would be consistent with ventriculomegaly. The question is begged as to whether a genetic alteration in the ANP (or related neuroendocrine) systems in SHR rats precludes CSF volume down-regulation.
To construct a global model of CSF-ISF volume homeostasis, more information is needed on how ANP, AVP and FGF2 work in concert to regulate fluid transfer across CP and BBB [200, 201, 209]. AVP also interacts with angiotensin II in the CP-CSF system to decrease fluid production [217]. Neuropeptidergic modulation at fluid reabsorption sites in the CNS importantly awaits elucidation. Gaining insights on peptidergic regulation of CSF flow in various regions may make feasible the use of natural ligands or their analogs and antagonists [17] to therapeutically correct aberrant ventricle size.
6 CSF turnover rate
The brain's ability to turn over or renew CSF is crucially important in maintaining metabolic balance in the CNS. This is because the brain lacks lymphatic capillaries. It therefore relies heavily on continual CSF convection to clear macromolecules and catabolites from the neuronal environment. Such clearance deficiency, as in states of CSF stagnation when turnover rate is severely compromised, results in catastrophic changes in the composition of the interstitium, vessel walls and meninges. Consequently, neurons incur damage. Pharmacotherapeutic strategies to stabilize the aging CNS might well include ways to maintain CSF formation and prevent ventricular enlargement.
The CSF turnover rate is defined as the volume of CSF produced in 24 hours divided by the volume of the CSF space. In young adult rats, the total CSF volume is renewed about 11 times daily compared to 4 times/day in control humans (Table
4
). Moreover, in both rodents and man, the rate of turnover of CSF declines with age and dementia progression (Table
4
). Such dwindling of the CSF turnover rate is partly due to the declining ability of CP to form CSF in later stages of life [
18
,
79
].
Table 4
CSF dynamics and volume in aging and neurodegeneration
Rat Aging*

Human Disease†

3 mo

19 mo

30 mo

Normal

NPH

AD

CSF Formation Rate (ml/min)

0.00121

0.00148

0.00065

0.40

0.25

0.20

CSF Volume (space) (ml)

0.156

0.196

0.308

150

300

250

CSF Turnover Rate (volumes/day)

11

10.8

3.0

4

1.2

1.2
6.1 Adverse effects of ventriculomegaly
Another substantial factor in turnover rate is the volume of CSF. In young adults, there is a CSF space of 150–160 ml and a formation rate of about 0.4 ml/min [3]. The result is a normal turnover rate in man of about 4 volumes of CSF per 24 hours (Table 4). CSF volume or space however is augmented in senescence and dementia, often as an ex vacuo hydrocephalus secondary to atrophic loss of brain mass. Large ventricles inherently impair the CSF's ability to efficiently renew itself because turnover rate is inversely related to CSF volume (ventricles, cisterns and subarachnoid spaces). Accordingly, in aging, NPH and AD (Table 4), the CSF turnover rate can fall by 3–4-fold. Consequently as the ventricles enlarge in aging and disease [3], the purity of CSF is gradually lost due to less rapid turnover causing stagnation of extracellular fluid.
6.2 Attenuated CSF sink action
CSF disorders in both the young and old CNS often involve impoverished fluid turnover. CSF sink action to remove catabolites is a function of fluid formation and CSF volume relative to brain volume. In perinatal development when BCSFB transport capacity is less, the CP forms fluid at a slower rate per mass of tissue than in adults [33, 106, 107, 110–113]. Moreover, in early life the ratio of CP-CSF volume to brain volume is relatively high [34]. These factors lessen the capability of immature brain to eliminate unneeded catabolites. The growing anabolic brain requires an optimally functioning CP-CSF to remove catabolites as well as provide micronutrients. Congenital hydrocephalus, with expanding ventricles, further reduces the already low degree of CSF sink action in the fetus [33, 113]. Consequently, the low CSF turnover in infantile hydrocephalus makes the maturing CNS especially vulnerable to damage.
In later life, CSF turnover rate is also markedly curtailed [
2
,
3
,
9
,
18
,
19
,
79
]. In senescence, NPH and AD, there is progressively lower CSF formation rate and expanded ventricular volume. The net result for all three states is diminished CSF turnover rate (Table
4
). Such attenuated CSF sink action in aging, NPH and AD [
3
,
19
] alters CSF composition (see below) with deleterious consequences for brain. In aging, when dwindling fluid percolation and interstitial deposits hamper clearance of brain solutes, the curtailed flux of neurotransmitter metabolites (such as homovanillic acid) from interstitium to ventricles [
218
] likely reflects diminished bulk flow and diffusion between ISF and CSF. In a rat model that mimics NPH [
219
], beta amyloid peptide (Aβ) accumulates centrally as in NPH patients. In both cases Aβ clearance pathways are impaired (Fig.
8
), by reduced transport of low-density lipophilic protein receptor related protein (LRP-1) at the BBB [
219
] and slower bulk flow from attenuated CSF dynamics [
3
,
79
]. Pharmacological intervention [
11
,
12
,
15
–
17
] in geriatric patients to maintain CSF formation and minimize ventricular dilation might prevent curtailed CSF turnover. A worthy goal is to provide trophic drugs or CP transplants [
12
,
15
] to minimize neurodegeneration by stabilizing CSF volume and content.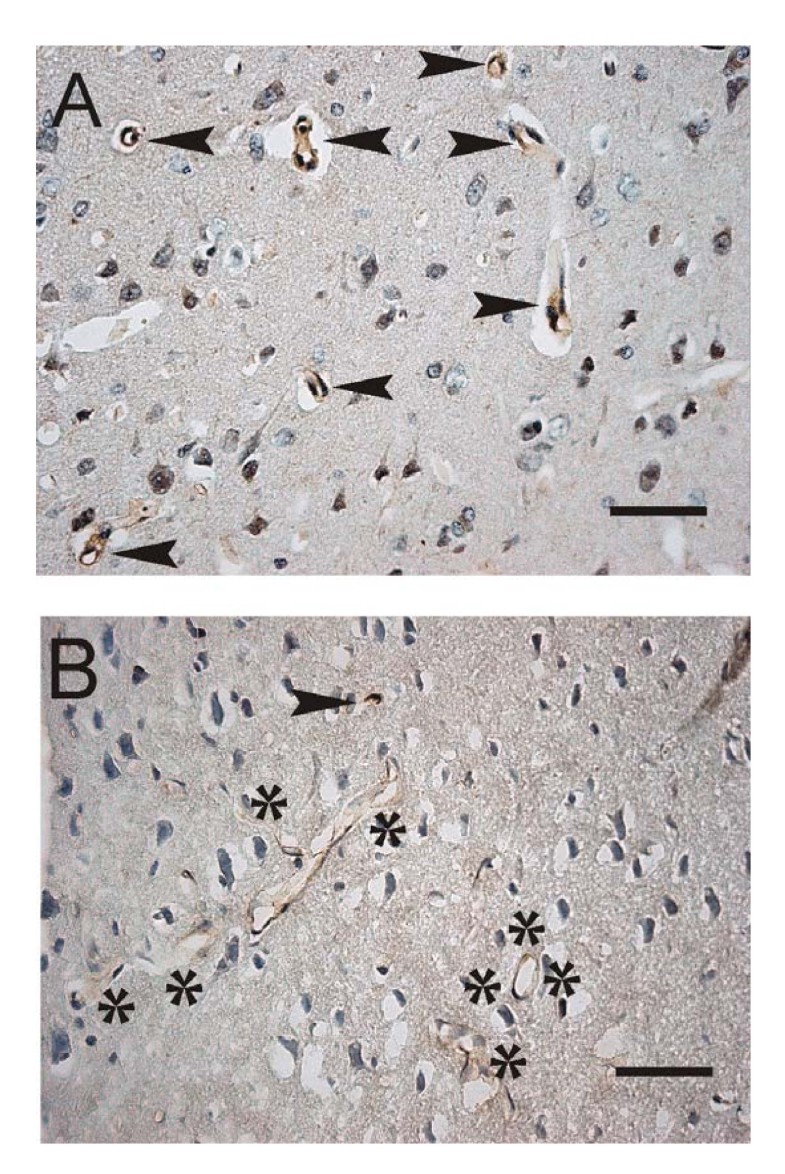 7 CSF composition
Historically, CSF compositional analyses have been used widely to monitor distortions in brain metabolism, evaluate disruptions of barrier transport and permeability functions, obtain pharmacokinetic parameters for drugs targeting the brain parenchyma, and identify biomarkers for aiding the diagnosis and prognosis of CNS diseases. Thus the CSF contains valuable biochemical and cellular information that can be advantageous for more effective clinical management of brain complications. An appreciation of altered CSF composition, especially in relation to corresponding changes in plasma, is particularly useful in interpreting scientific and neurological data.
8 CSF recycling in relation to ISF dynamics
Functional interactions between CSF and ISF are plentiful. CSF and ISF move by bulk flow, the former through large cavities and the latter finely through narrow winding pathways in the neuropil and grossly along myelinated fiber tracts. Fluid is convected into and out of the brain parenchyma, depending upon prevailing local hydrostatic pressure gradients. Knowledge of bulk flow pathways is important for: the delivery of micronutrients and peptides to neurons and glia, the conveyance of hormone signals to target cells, the delivery of drugs to receptors, and the removal of catabolic products from CNS. Pathological sequelae ensue when ISF and CSF do not freely percolate. CSF movement via interstitial pathways requires further analysis due to disease implications.
8.1 CSF exchange with brain interstitium
CSF and ISF dynamically exchange water and solutes across the ependymal (interior) and pia-glial (exterior) surfaces of brain [1, 27]. Brain ISF has distinctive circulatory features [22]. Continual ISF turnover, even at a relatively slow rate [250, 251], maintains an optimal microenvironment for neurons. In aging there is less efficient active transport at the brain capillary endothelium and choroidal epithelium. Consequently, the slower turnover of ISF and CSF causes CNS accumulation of potentially injurious organic acids and peptides. Neurons are harmed in senescence when metabolites accumulate interstitially [9].
8.2 Components of ISF movement in brain
Metabolic waste is discarded through ISF and CSF clearance routes. Brain ISF conducts metabolites away from neurons and glia to excretory sites. ISF has multiple input and output components that keep the fluid mixed and delivered to excretory loci. On the input side of ISF volume and flow is a CSF-like fluid likely secreted by the astroglial-endothelial complex in microvessels [252]. The putative BBB fluid production is much less than by CP. Another input to ISF is water generated by parenchymal metabolism [252]. A third input to ISF is a fraction of the SAS fluid (originally derived from the CP-ventricular nexus) that enters cortex via the Virchow-Robin perivascular spaces [253–255], propelled in part by the pumping action of arteries and arterioles. As such, this recycled CSF likely drains back into the ventricles.
ISF output has at least two components. First, quantitatively substantial reabsorptive fluxes of solutes (e.g., Aβ peptides) occur via LRP-1across endothelial cells into vascular lumina [229]. As LRP-1 expression at the BBB wanes, as with age, the CP LRP-1 transporter may need to cover this deficit in clearance in brain capillaries by reabsorbing proportionally more Aβ at the BCSFB. Another class of solutes reabsorbed across BBB is organic acids/anions, actively removed from brain to blood by the organic anion transport system (OATS) [256]. Secondly, there is bulk flow and diffusion of substances from ISF to large-cavity CSF [22] that are ultimately reabsorbed at arachnoidal sites. Studies are needed to determine how the proportion of catabolite clearance, at BBB vs. BCSFB and bulk flow, changes with progression of brain pathology. Fluid percolation through brain interstices [251] is substantially slower than CSF circulation through ventriculo-subarachnoid spaces. ISF bulk flow with its entrained catabolites awaits comprehensive characterization, particularly in regard to ISF interaction with the water dynamics of CSF.
8.3 Compromised ISF/CSF dynamics and amyloid retention
Volume transmission of ISF and CSF is substantially attenuated in aging and dementia [3, 9]. Brain catabolites build up when fluid turnover rates fall by > 50% [19]. An example is Aβ40, generated by enzymatic cleavage of amyloid precursor protein [229]. Due to deteriorating fluid dynamics, Aβ accumulates in ISF and perivascular spaces during aging, NPH and AD. Our working model is that central Aβ clearance is compromised by interacting factors in aging. By nine months in the mouse there is reduced efflux transport of radiolabeled Aβ1-40 [229], perhaps due to decreased LRP-1 transport at the abluminal interface of the BBB. LRP-1 loss would result in slower removal of Aβ from ISF [229], causing Aβ42 to accumulate in cortical microvessels [257]. Moreover, attenuated CSF formation reduces ventricular sink action [33] that draws (by concentration gradients directed into CSF) Aβ fragments and other peptides from ISF. Another unfavorable outcome in senescence is Aβ42 accumulation in CP epithelium, ependyma and arachnoidal cells [257]. These CSF-bordering interfaces control fluid movement among CNS compartments [1]. When burdened with toxic Aβ, the choroido-meningeal tissues are probably less effective homeostatically in stabilizing brain ISF against plaque formation.
Cumulative evidence for dwindling transport and fluid dynamics in aging, NPH, and AD, [3, 19] points to common vulnerabilities in the degenerating BCSFB [18] and BBB [224]. Hydrocephalus induced in old rats by kaolin injection causes Aβ retention in many CNS regions [219]. A unified model for brain proteinopathies should relate peptide/protein distribution kinetics to fluid-turnover capacities. ISF functional integrity relies upon an efficient CP-CSF system and healthy cerebral microvessels. Following a late-life breakdown of transporters, the brain interstitium accumulates catabolite debris, including peptide fragments. This predisposes to concentration-dependent Aβ self-assembly into oligomers, fibril formation and plaque deposition. Information is needed on how Aβ retention alters CBF, arteriolar actin [258], hydraulic conductivity of ISF, tortuosity of extracellular channels and viscoelasticity of the matrix. These factors impact the interactive ISF-ventricular fluid dynamics and hence the delivery of catabolites to excretory pathways.
9 CSF reabsorption
CSF clearance into lymph and blood involves diverse anatomical sites and physiological mechanisms. Disrupted CSF reabsorption is a common cause of hydrocephalus. The eventual resolution of clinical hydrocephalus depends upon knowledge of outflow sites and their regulation. When CSF is retained in the CNS, compensatory mechanisms stabilize ICP [97]. In addition to cranial nerve outflow adjustments, there are spinal nerve arachnoidal pathways that facilitate fluid egress following CSF retention in the spinal SAS. Moreover, when CNS is fluid overloaded, the brain capillaries may use up regulated AQP channels to absorb ISF under high pressure. Improved understanding of fluid reabsorption at multiple sites will lead to better management of CSF and ISF congestion.
10 Developing translationally effective models for restoring CSF balance
Restoration of fluid balance perturbed in congenital and adult chronic hydrocephalus remains an enormous challenge. Translational progress is difficult because CSF is complexly interactive with many fluid compartments and interfaces (Fig. 1). In elucidating CSF dynamics, it is imperative to analyze not only the CP-CSF-arachnoid nexus [284] but also the brain capillary-ISF-ependymal nexus. A thorough understanding of fluid transfer from brain to CSF to lymph, or in the reverse direction during elevated-pressure hydrocephalus (from CSF to ISF to cerebral capillary blood), should expedite therapy with drugs or fluid-drainage hardware.
The CPs are more than an appendage of the BBB [
1
]. Rather, the composite BCSFB is a major interface that, when functioning in parallel with the cerebral capillary network (Fig.
12
), effects a stable extracellular environment for neurons at optimal volume, composition and pressure. Having a renal-like function to stabilize fluid in the CNS [
34
], the CP protects the brain just as the kidney safeguards peripheral organs by stabilizing the plasma constituents. To maintain CNS stability, is there physiological cross talk or signaling between BBB and BCSFB? Probably so, but multi-compartmental analyses are necessary to answer this question.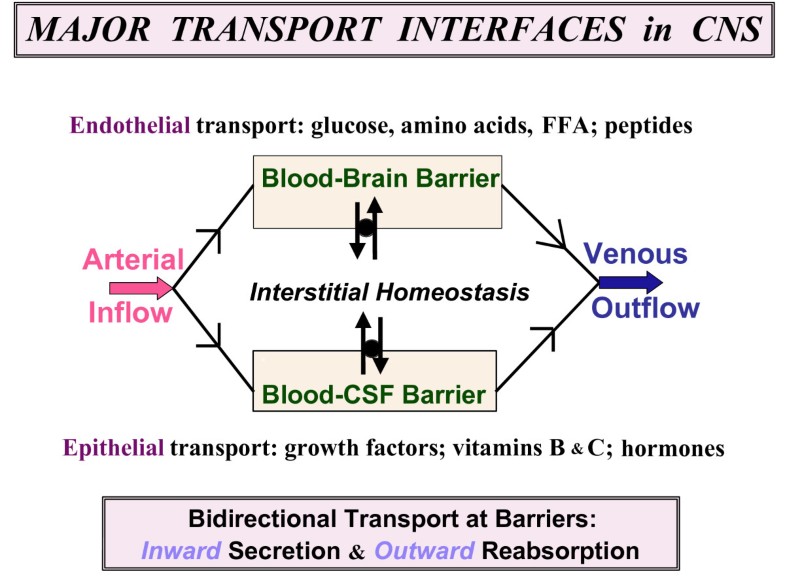 An altered BCSFB can affect the BBB, and vice versa. The actions and responses at these primary transport interfaces are addressed with in situ and in vivo models allowing concurrent analyses of barriers not possible with in vitro and cell culture preparations. One approach is multi-compartmental analysis [112] or simultaneous microdialysis [285] of brain (parenchymal probe) and CSF (cisternal microprobe), following systemic administration of radiotracers [286]. Another tack is regional immunohistochemical analyses of peptide, channel or transporter expression in CP, brain capillaries, ependyma, neurons and arachnoid [219]. Systemic analysis of solute and water transfer enlightens the magnitude and vector of fluid shifts. Furthermore, Western blot, ELISA and PCR data from isolated CP and brain microvessels furnish complementary data [257] to characterize in vivo transport mechanisms.
A fascinating advance for CSF modeling is that the BCSFB and BBB can be involved in opposite responses. This happens when the CNS adapts to altered fluxes of water and peptides (e.g., resulting in Aβ retention) in diseases that physically impair distribution pathways. Table
5
shows an overview of the compensatory adjustments for aging, NPH and AD in regard to water and peptide translocation at blood-CNS interfaces. First, in regard to water movement through channels (Table
5A
), there is normally net diffusion of water from blood to brain. In high-pressure hydrocephalus, however, there may be net reabsorption of fluid from ISF to capillary blood via up-regulated AQP4 channels. However, such a reversal phenomenon in the BBB as well as down-regulated AQP1 and CSF formation in hydrocephalus, need to be demonstrated functionally. Moreover, Aβ clearance from brain ISF to blood via capillary LRP-1 is evidently decreased in aging, NPH and AD, but may be increased or maintained in the reabsorptive CSF-CP nexus where LRP-1 is up-regulated or sustained in these three states (Table
5B
). This postulate awaits proof from kinetic experiments. Still, mounting evidence indicates that the BCSFB and BBB are complexly interactive physiologically and in pathologic states. By integrating data for CP, ependyma, arachnoid and BBB vasculopathy, insight will be gained on how CSF-ISF dynamics impacts brain integrity [
287
].
Table 5
Differential expression of water channels and peptide transporters at the BCSFB and BBB: Implications for CNS fluid and peptide homeostasis
A

Aquaporin 1 (Blood-CSF Interface)

Aquaporin 4 (Blood-Brain Interface)

AQP1 is present at the CSF-facing pole of choroid plexus epithelium [70 – 73, 77, 78], and in the CSF-brain ependymal lining [281].

AQP4 is located in astrocytic foot processes at the BBB. It is associated with fluid transfer across cerebral microvessels.

Reduced expression in choroid plexus is associated with slower rates of CSF secretion and thus decreases ICP [77, 78].

Elevated expression of AQP4 in the BBB occurs in chronic hydrocephalus [281 – 283]; may be associated with fluid reabsorption.

Attenuated expression in aging [57] and in Alzheimer's disease is accompanied by slower fluid turnover rate [79].

Diminished expression at BBB leads to a reduction in brain edema formation in some animal models.

B

LRP-1 (Low density lipophilic receptor associated protein)

RAGE (Receptor for advanced glycation end products)

Expressed in choroidal epithelium and capillary endothelium [229, 257].

Expressed in choroidal epithelium and brain capillary endothelium [257].

Removes Aβ peptide from CSF and brain ISF [229, 243] for excretion via blood.

Transports Aβ from blood into brain ISF where the retained peptide may predispose to Aβ plaque formation in the interstitium.

Sustained or increased expression in choroid plexus during aging, NPH and AD.

Enhanced expression of RAGE at BBB in aging, NPH [219] and AD [225] may destabilize BBB and precipitate plaque.

Decreased expression of LRP-1 at the BBB in aging, NPH and AD likely interferes with Aβ removal [219, 225, 229].

Expression of RAGE is generally opposite to that of LRP-1 at the barriers and in neurons [225].
11 Conclusion
CSF integrates a multiplicity of functions for the CNS. From fetal life through adulthood, and extending into terminal stages, CP-CSF actively engages in building, maintaining and repairing the brain [288]. Efficient CSF homeostatic mechanisms are vital to neuronal networks. CSF dys-homeostasis in aging and illness, however, can compromise motor functions and cognition. Stabilizing or restoring BCSFB and BBB functions in senescence and disease challenges the next generation of investigators. Clinical translation of fluid homeostasis concepts is contingent upon expanded knowledge of the multiple transport interfaces that contact CSF.
List of abbreviations
aAMP:

arterial pulse amplitude
Aβ:

beta-amyloid protein or peptide
AD:

Alzheimer's disease
AE2:

anion exchanger, e.g., Cl--HCO3- antiporter
ANP:

atrial natriuretic peptide
AQP:

aquaporin
AVP:

arginine vasopressin
BBB:

blood-brain barrier
BCSFB:

blood-cerebrospinal fluid barrier (choroid plexus)
c.a.:

carbonic anhydrase
CBF:

cerebral blood flow
CBV:

cerebral blood volume
cGMP:

cyclic guanylyl monophosphate
CNS:

central nervous system
CP:

choroid plexus
CPe:

choroid plexus epithelium
CSF:

cerebrospinal fluid
CSFP:

cerebrospinal fluid pressure
ELISA:

enzyme-linked immunosorbent assay
FGF2:

basic fibroblast growth factor
H-Tx:

hydrocephalic rat model with a genetic origin and obstruction of the cerebral aqueduct
ICP:

intracranial pressure
ISF:

interstitial fluid
LRP-1:

low-density lipophilic protein receptor related protein (Aβ transporter)
MRI:

magnetic resonance imaging
NHE1 and NHE3:

sodium-hydrogen exchangers
NKCC1:

Na-K-Cl cotransporter (secretory form)
NPH:

normal pressure hydrocephalus
PC-bSSFP:

phase contrast balanced steady-state free precession
Pgp:

P-glycoprotein transporter
RAGE:

receptor for advanced glycation end products (Aβ transporter)
RF:

Reissner's fiber
Ro:

resistance to CSF outflow
RPPC:

relative pulse pressure coefficient
SAS:

subarachnoid space
SCO:

subcommissural organ
SHR:

spontaneously hypertensive rat
SLC4:

member of the bicarbonate transporter family
TTR:

transthyretin.
Declarations
Acknowledgements
Gratitude for research support is expressed to the Neurosurgery Division at Brown Medical School, Lifespan/Rhode Island Hospital, the Saunders Foundation, the Alzheimer's Association, the Richter Foundation, and NIH grants NS RO1 27601 and NIA RO1 AG027910. We also thank P. McMillan for electron microscopy; N. and J. Johanson for manuscript editing and graphics; A. Messier and S. Slone for technical contributions; and J. Donahue for discussion on Alzheimer's disease.
Authors' Affiliations
(1)
Department of Clinical Neurosciences, Warren Alpert Medical School at Brown University, Providence, USA
(2)
International Neuroscience Institute Hannover, Hannover, Germany
Copyright
© Johanson et al; licensee BioMed Central Ltd. 2008
This article is published under license to BioMed Central Ltd. This is an Open Access article distributed under the terms of the Creative Commons Attribution License (http://creativecommons.org/licenses/by/2.0), which permits unrestricted use, distribution, and reproduction in any medium, provided the original work is properly cited.