Resolution of central nervous system astrocytic and endothelial sources of CCL2 gene expression during evolving neuroinflammation
Fluids and Barriers of the CNS
2014
11:6
Received: 4 December 2013
Accepted: 26 February 2014
Published: 4 March 2014
Abstract
Background
The chemokine CCL2 is a critical mediator of neuroinflammation in diseases such as multiple sclerosis (MS) and its animal model, experimental autoimmune encephalomyelitis (EAE). CCL2 drives mononuclear cell infiltration into the central nervous system (CNS), alters expression and distribution of microvascular endothelial tight junction proteins, and disrupts the blood–brain and blood-spinal cord barriers. Immunohistochemistry has consistently revealed astrocytes to be a source of this chemokine during neuroinflammation, while providing less uniform evidence that CNS endothelial cells may also express CCL2. Moreover, the relative contributions of these cell types to the CNS pool of CCL2 during MS/EAE are unclear and the aim of this study was to investigate this further.
Methods
CCL2 gene expression was determined by qRT-PCR in different populations of CNS cells at different times following EAE induced by immunization with MOG35–55 peptide and adjuvants, or after injection with adjuvants alone. CNS cells types were isolated by two different protocols: bulk isolation to yield crude microvascular and parenchymal fractions (containing astrocytes, other glia, and neurons), or laser capture microdissection (LCM) to acquire more precisely microvascular endothelial cells, astrocytes or other parenchymal cells.
Results
Both CNS microvessel and parenchymal populations prepared by crude bulk isolation showed up-regulation of CCL2 mRNA following MOG immunization or injection of adjuvants alone. More exact dissection by LCM revealed microvascular endothelial cells and astrocytes to be the specific sources of CCL2 gene induction following MOG immunization, while only astrocytes showed elevated CCL2 mRNA in response to just adjuvants. Astrocytes displayed the greatest degree of stimulation of CCL2 gene expression following EAE induction.
Conclusions
High-precision LCM affirmed both microvascular endothelial cells and astrocytes as the major CNS sources of CCL2 gene expression during EAE. Given the high accessibility of the CNS microvascular endothelium, endothelial-derived CCL2 could prove a viable target for therapeutic intervention in neuroinflammatory disease.
Keywords
CCL2MOGEndothelial cellsAstrocytesEAEMSCFAPTX
Background
Numerous human and animal studies have highlighted the chemokine CCL2 (formerly known as MCP-1[1]) as a critical mediator of the neuroinflammatory disease multiple sclerosis (MS) and its animal model experimental autoimmune encephalomyelitis (EAE)[2–4]. While long recognized for its chemotactic properties in guiding leukocyte migration, CCL2 has also been shown to destabilize tight junctions between microvascular endothelial cells that comprise the blood–brain and blood-spinal cord barriers[5–8]. This multifunctional status underscores CCL2's value as a potential therapeutic target. However, for therapeutic measures to be most effective the sources of CCL2 in the central nervous system (CNS) have to be defined and the timing of CCL2 expression during neuroinflammation elaborated. While astrocytes are widely recognized in reviews as a major CNS source of CCL2 during MS and EAE, brain microvascular endothelial cells (BMEC) have received only limited acknowledgement for expressing this chemokine[9–11]. The scarce recognition of BMEC as a critical CCL2 source in situ may, in part, stem from the routine use of conventional immunohistochemistry to confirm expression. This technique may not be sufficiently sensitive to detect reliably perhaps smaller, vesicular quanta of endothelial CCL2[12]. The use of adjuvants to induce EAE, e.g., Complete Freund's Adjuvant (CFA) and pertussis toxin (PTX), can affect CCL2 expression in some endothelial cell types[13, 14], and might further contribute to ambiguity of BMEC-derived CCL2 during neuroinflammatory disease. Previous reports have not examined the adjuvant issue. The status of BMEC CCL2 gene expression in neuroinflammation thus remains equivocal.
Herein, we report use of two highly-sensitive, qRT-PCR-based approaches to clarify the relative contributions of the parenchymal and vascular compartments to CNS CCL2 gene expression during the evolution of EAE induced by immunization with myelin oligodendrocyte glycoprotein (MOG) peptide35–55 along with adjuvants. One approach used a crude separation of CNS parenchymal and microvessel fractions, based on a common preparative method from homogenized CNS tissue. The other employed the laser capture microdissection (LCM), to more precisely retrieve separate BMECs, astrocytes and other parenchymal cell types. Additionally, we assessed CCL2 expression levels following MOG immunization as well as after injection of these adjuvants alone, to highlight the effects due to MOG immunoreactivity.
Results and discussion
CCL2 expression levels were first evaluated in separate parenchymal and microvessel fractions prepared by bulk isolation from brain and spinal cord tissue of either MOG-CFA/PTX-treated (EAE) or CFA/PTX-treated (Control) mice. Analysis was performed at different days after initial injection, which represented onset (D9), peak (D16) and chronic (D23) phases of clinical EAE disease (Figure
1
). As determined by qRT-PCR, relative expression of CCL2 by microvessels was significantly higher in both treatment groups (CFA/PTX and MOG-CFA/PTX) compared to naïve animals at D9 and D16, with a return to naïve level by D23 (Figure
1
A, C). The parenchymal fraction showed a similar trend of significantly increased CCL2 expression in both treatment groups compared to naïve animals at D9 and D16 (Figure
1
B, D).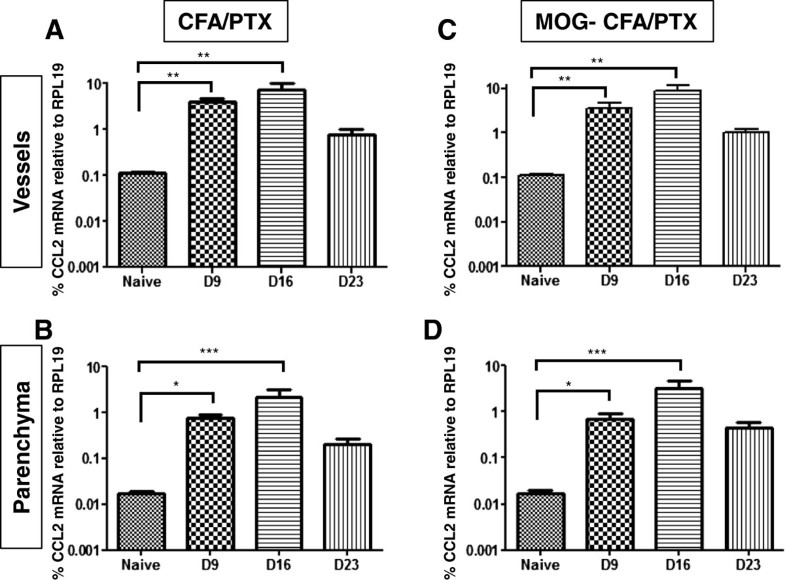 Next, we performed a time-course analysis with CNS tissue that was more precisely dissected into endothelial cells (CD31), astrocytes (GFAP) and "other" parenchymal cells (selected areas devoid of CD31 and GFAP immunostaining) by LCM. As was the case with bulk preparation of microvessels, endothelial cells showed elevated CCL2 expression in MOG-CFA/PTX-treated mice at D16 compared to naïve mice (Figure
2
D). However, corresponding endothelial samples from CFA/PTX-treated mice did not show a similar increase (Figure
2
A). Astrocytes exhibited significantly elevated CCL2 expression at both D9 and D16 in the MOG-CFA/PTX-treated group (Figure
2
E), and a significant increase at D9 in the CFA/PTX-treated cohort (Figure
2
B). In contrast to that observed with the bulk parenchymal preparations, other parenchymal cells isolated by LCM failed to display an increase in CCL2 expression either in MOG-CFA/PTX-treated (Figure
2
F) or CFA/PTX-treated (Figure
2
C) mice compared to naïve mice at any time-point.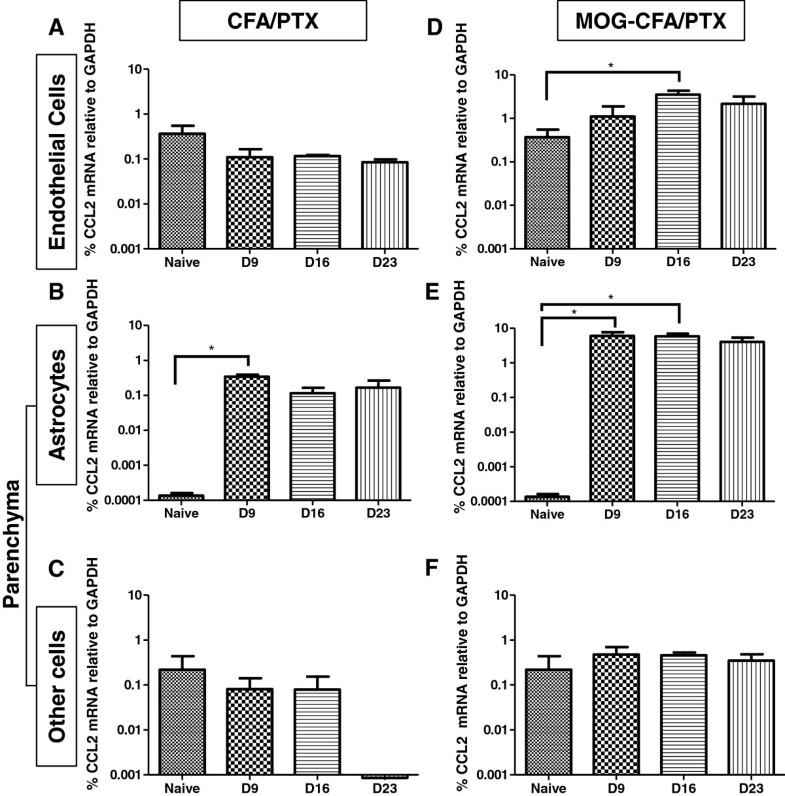 These findings underscore several points. Expression of CCL2 was significantly induced in both astrocyte and endothelial cell populations in the MOG-induced EAE paradigm. The fact that CCL2 mRNA level appeared higher in endothelial cells than in astrocytes in naïve mice may reflect the capture of some circulating leukocytes along with endothelial cells, as the mice were not perfused prior to LCM. Interestingly, while CFA/PTX injection resulted in elevated CCL2 expression in isolated microvessels, it did not do so in LCM-acquired endothelial cells. This suggests that sources other than endothelial cells contributed to the altered CCL2 mRNA level in the bulk microvessel fraction. As astrocytes lie in close proximity to endothelial cells within the neurovascular unit (NVU)[26, 27] and can contaminate microvessel preparations[28, 29], a priori these particular glial cells may be a significant source of CCL2 mRNA detected in bulk-isolated microvessels. This caveat reinforces LCM as a critical technology to resolve more effectively sources of gene expression in situ.
Our LCM results further suggest astrocytes are the preeminent parenchymal sources of induced CCL2 gene expression during EAE, since the other parenchymal cells acquired by this technique showed no significant stimulation of CCL2 mRNA. As increased immunostaining of CCL2 in microglia has been reported in EAE[30], this may represent up-regulation at the protein rather than the RNA level. It may also be that the percentage contribution of microglia in the other parenchymal cells acquired by LCM, was not high enough to show overall elevation of CCL2 gene expression in these samples from diseased mice. CCL2 mRNA detected in other parenchymal cells from naïve mice could possibly also reflect a low level of constitutive CCL2 expression by neurons[31].
Lastly, CFA/PTX alone can stimulate CCL2 expression in astrocytes (Figure 2B), possibly providing a priming function for supernumerary stimulation due to MOG effects (Figure 2E). This is consistent with reports that peripheral inflammation induced by CFA or Mycobacterium resulted in CNS glial activation[32, 33]. Previous results from this laboratory indicated CFA/PTX injection also up-regulated expression of CCL2 by choroid plexus capillary endothelial cells. Thus, it is imperative that any measure of gene expression following the typical MOG immunization protocol be compared to effects seen after injection of CFA/PTX alone, to discern what gene changes are associated specifically with MOG-induced pathogenesis.
These results reinforce the CNS microvascular endothelium as a significant source of CCL2[9, 10, 12], as well as spotlight LCM as a critical tool for the selective enrichment of vascular or other CNS cell types for gene expression studies[14, 20, 22]. Moreover, given the microvascular endothelium is highly accessible from the circulation as compared to the astrocyte population which lies behind the BBB and BSCB, endothelial-derived CCL2 may be a "druggable" target in neuroinflammatory disease[24, 34].
Abbreviations
BBB:

Blood brain barrier
BMEC:

Brain microvascular endothelial cells
CFA:

Complete Freund's adjuvant
CNS:

Central nervous aystem
EAE:

Experimental autoimmune encephalomyelitis
LCM:

Laser capture microdissection
MOG:

Myelin oligodendrocyte glycoprotein
MS:

Multiple sclerosis
PTX:

Pertussis toxin.
Declarations
Acknowledgements
This work was supported in part by Grant # RG 4503A4/1 from the National Multiple Sclerosis Society to J.S.P. We thank Dr. Nivetha Murugesan for initial supervision with the LCM procedure.
Authors' Affiliations
(1)
Blood–brain Barrier Laboratory, Department of Cell Biology, University of Connecticut Health Center, Farmington, USA
Copyright
© Shrestha et al.; licensee BioMed Central Ltd. 2014
This article is published under license to BioMed Central Ltd. This is an Open Access article distributed under the terms of the Creative Commons Attribution License (http://creativecommons.org/licenses/by/2.0), which permits unrestricted use, distribution, and reproduction in any medium, provided the original work is properly credited. The Creative Commons Public Domain Dedication waiver (http://creativecommons.org/publicdomain/zero/1.0/) applies to the data made available in this article, unless otherwise stated.