Ion channel diversity, channel expression and function in the choroid plexuses
Cerebrospinal Fluid Research
2007
4:8
Received: 10 July 2007
Accepted: 20 September 2007
Published: 20 September 2007
Abstract
Knowledge of the diversity of ion channel form and function has increased enormously over the last 25 years. The initial impetus in channel discovery came with the introduction of the patch clamp method in 1981. Functional data from patch clamp experiments have subsequently been augmented by molecular studies which have determined channel structures. Thus the introduction of patch clamp methods to study ion channel expression in the choroid plexus represents an important step forward in our knowledge understanding of the process of CSF secretion.
Two K+ conductances have been identified in the choroid plexus: Kv1 channel subunits mediate outward currents at depolarising potentials; Kir 7.1 carries an inward-rectifying conductance at hyperpolarising potentials. Both K+ channels are localised at the apical membrane where they may contribute to maintenance of the membrane potential while allowing the recycling of K+ pumped in by Na+-K+ ATPase. Two anion conductances have been identified in choroid plexus. Both have significant HCO3- permeability, and may play a role in CSF secretion. One conductance exhibits inward-rectification and is regulated by cyclic AMP. The other is carried by an outward-rectifying channel, which is activated by increases in cell volume. The molecular identity of the anion channels is not known, nor is it clear whether they are expressed in the apical or basolateral membrane. Recent molecular evidence indicates that choroid plexus also expresses the non-selective cation channels such as transient receptor potential channels (TRPV4 and TRPM3) and purinoceptor type 2 (P2X) receptor operated channels. In conclusion, good progress has been made in identifying the channels expressed in the choroid plexus, but determining the precise roles of these channels in CSF secretion remains a challenge for the future.
Keywords
Cystic Fibrosis Transmembrane Conductance Regulator
Choroid Plexus
Anion Channel
Transient Receptor Potential Channel
BKCa Channel
1. Introduction: 25 years of the patch clamp method
It is now more than 25 years since the publication of the seminal paper which first described the patch clamp method for studying ion channels [1]. In recognition for their work in developing the patch clamp method Bert Sackmann and Erwin Neher, two of the authors on this original paper, were awarded the 1991 Nobel Prize for Medicine. The impact of the method is perhaps most obvious in studies of the activity of individual ion channels (single channel recording). This configuration of the method gives scientists the unique opportunity to study the activity of a single protein. Used in conjunction with recombinant DNA techniques, this method has vastly increased our understanding of how protein structure relates to channel function. In recognition of such studies the 2003 Nobel Prize for Chemistry was awarded to Rod McKinnon (jointly with Peter Agre).
Patch clamp methods, particularly whole cell methods, have also been important in determining the physiological roles of channels in mammalian cells. This is particularly true in secretory epithelia, where scientists such as Ole Petersen and Alain Marty pioneered the use of whole cell methods to study the mechanisms of secretion in exocrine acinar cells [2, 3]. In fact the one major refinement of the technique, the "perforated patch", was developed by Marty and Horn while working on lacrimal gland acinar cells [4]. The immense impact of patch clamp methods to disciplines such as physiology and neuroscience is perhaps best illustrated by the fact that a total of 100 000 papers which used the patch clamp method were published between 1981 and 2001 [5].
Patch clamp methods were originally applied to choroid plexus over 20 years ago; first in amphibian tissue and subsequently in mammalian tissue. The impact of the technique to understanding choroid plexus physiology, however, is less dramatic than that in studies of secretory, exocrine acinar cells. There are probably for two main reasons for this: 1) choroid plexus cells are less robust than exocrine acinar cells, thus it has been more difficult to perform complex experiments, 2) exocrine acinar cells express relatively few channels, while in comparison the choroid plexus cells express a wide range of ion channels making the separation of distinct transport pathways more problematic. In recent years, however, the molecular structures of most ion channels have been determined. As a result molecular localisation techniques such as in situ hybridisation, reverse transcriptase polymerase chain reaction (RT-PCR), Western blotting and immunocytochemistry have been employed to resolve many of the complexities of channel expression in the choroid plexus. This article will discuss these data. It will also speculate on future areas of development. To provide a frame work for this discussion we first give a brief general overview of ion channel structure and function.
The reader is reminded that while there is little doubt that ion channels have many important roles in the choroid plexus, many other transport proteins (pumps and carriers) are expressed in the choroid plexus. These are not discussed in this article but are the subject of two recent reviews [6, 7].
2 Ion channel diversity
Ion channels are expressed in all cells. They are integral membrane proteins that form selective pores in cell membranes (often as multimers), which facilitate the movement of ions across the membrane down their electrochemical gradient. They are characterised by high rates of transport (millions of ions.s-1) compared to other transport proteins e.g. facilitated glucose (GLUT) transporters which transport about 100 molecules.s-1. This high rate of transport is important because it means that ion movements can create significant changes in the electrical properties of a cell, it also means that ion channels are exploited as a point of regulation in most cells. Thus many different mechanisms have evolved by which channel activity can be modulated, e.g. voltage, ligand binding, phosphorylation and mechanical stress.
There is no simple, systematic nomenclature for ion channels. However, in general they are classified primarily by reference to the ion to which they are selective, i.e. K+, Na+, Ca2+, anions. They are then sub-divided on the basis of functional properties such as a mechanism of regulation (e.g. Ca2+-activated) or a biophysical characteristic (e.g. inward rectifier). Even with increased knowledge of channel molecular structure this simple classification based on selectivity still works well. However, there are two classes of channel that do not adhere to these simple rules: the receptor-operated channels (selective for either cations or anions) and novel transient receptor potential (TRP) channels (which discriminate poorly between monovalent and divalent cations). Each broad group of channels has many members, and can be further sub-divided as will be seen below.
3 Ion channel expression and function in the choroid plexus
3.1 Single channel studies
The earliest patch clamp experiments on choroid plexus examined single channel activity in tissue from the amphibian "mudpuppy"
Necturus maculosa
(see Table
1
). These studies identified the expression of BK
Ca
channels with a conductance of 180 pS in the apical membrane of the epithelial cells [
56
,
57
]. Further whole-cell experiments indicated that these BK
Ca
channels carried the bulk of the whole cell conductance in amphibian tissue [
58
]. Christensen
et al
[
59
] also identified at least three anion channels with different conductances in
Necturus
choroid plexus. The importance of these channels to whole cell conductance, however, was not determined. One final important observation to emerge from these single channel experiments was the activation of non-selective cation channels by cell swelling [
60
]. Christensen [
60
] went on to show that Ca
2+
influx via these non-selective cation channels caused the activation of BK
Ca
. This sequence of events has since become something of a paradigm in the initiation of cell volume regulatory mechanisms in many cells.
Table 1
Ion channel expression in choroid plexus epithelial cells.
| | Molecular Identity | Functional evidence | References |
| --- | --- | --- | --- |
| K + channels | Not determined | Ca2+-activated K+ (Amphibia; WC;SC) | [56-58] |
| | Kv1.1, Kv1.3, Kv1.6 | Outward rectifying conductance (WC) | [65, 69] |
| | Kir 7.1 | Inward-rectifying current (WC) | [65, 66] |
| | Kir3.4 | None (WC) | [68] |
| | TASK1 | Not determined | [75] |
| Anion channels | Unknown | Inward-rectifying conductance (WC) | [79, 85] |
| | Unknown | Volume-sensitive conductance (WC) | [80] |
| Na + channels | ENaC | None (WC) | [90] |
| Ca 2+ channels | Unknown | Receptor-activated Ca2+ influx (fura2) | [27, 92] |
| Receptor-operated channels | P2X | Not Determined | [94, 95] |
| TRP channels | TRPV4 | Stretch-activated, non-selective cation channel in Necturus (SC). | [59, 98, 99] |
| | TRPM3 | Non-selective conductance (WC) | [101, 103] |
| Aquaporin-1 | AQP1 | cGMP-activated, non-selective cation channel activated (WC) | [104] |
There are only three reports of single channel activity in mammalian choroid plexus. Somewhat surprisingly there were significant differences between the channels observed in rodent choroid plexus compared to those identified in Necturus. Garner and Brown [61] observed two types of anion channels in rat choroid plexus with single channel conductances of 25 and 400 pS. In a subsequent study the open probability (activity) of the 25 pS channel was shown to be increased by serotonin acting at 5HT2C receptors [62]. A similar effect of serotonin on anion channel activity in mouse choroid plexus had previously been reported by Hung et al [63], who had also observed the simultaneous inhibition of a 10 pS K+ channel.
3.2 Whole cell patch clamp experiments on mammalian choroid plexus
Single channel experiments provided our first insight into the diverse range of ion channels expressed in the choroid plexus. However, the lack of consistency between data from mammalian and amphibian choroid plexus, coupled to the difficulty in observing any single channel activity at all in mammalian choroid plexus, prompted my laboratory to switch to the whole cell method to study the mammalian choroid plexus. These studies have yielded more consistent results, and we have identified the expression of K+channels, anion channels and non-selective cation channels in choroid plexus tissue from rats and mice (Table 1). Channel expression has also been studied using molecular localisation techniques, i.e. RT-PCR, northern blotting, Western blotting and immunocytochemistry (see Table 1). The remainder of this review discusses these data, and comments on the potential roles of the channels identified in the choroid plexus epithelium.
4 Unconventional ion channels
A surprising recent finding is that aquaproin 1 (AQP1) may act as both a water channel and a ion channel in the choroid plexus [
104
]. AQP1 was already known to be expressed at high concentrations in the apical membrane of the mammalian choroid plexus, and is thought to play an important role in water transport by the choroid plexus [
105
,
106
]. In 2000, however, Andrea Yool and colleagues reported that AQP1 can function as a cGMP-gated, non-selective cation channel when expressed in
Xenopus
oocytes [
107
]. These studies were then extended to AQP1 expressed in rat choroid plexus epithelial cells [
104
]. It was found that a non-selective cation conductance was activated by atrial naturetic peptide (ANP), which acts to increase intracellular concentrations of cGMP [
104
]). Figure
8
shows the activation of the non-selective channel in choroid plexus cells by sodium nitroprusside (SNP, a nitric oxide donor which stimulates cGMP synthesis). The activated currents show no voltage-dependence (Figure
8B
) and discriminate poorly between monovalent cations [
104
]. The AQP1 currents were inhibited by 200μM Cd
2+
(Figure
8C
) and 600 μM Cd
2+
(Figure
8D
). The conductance observed was thought not to be due to the activation of endogenous channels by AQP1 because: 1) the channel properties are distinct from all known endogenous channels, and 2) because the conductance could be reduced by siRNA targeted at AQP1 [
104
].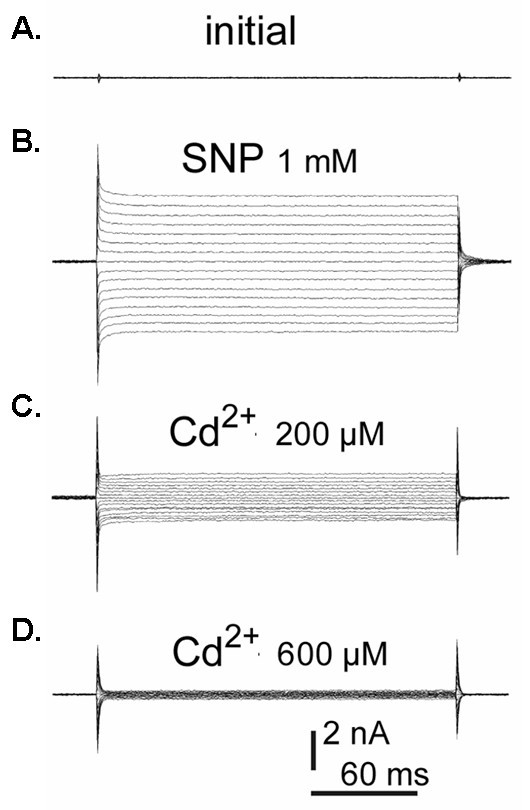 The biophysical relationship between the water channel and ion channel phenotype has not been established. The prevailing hypothesis is that the two different phenotypes represent differences in protein folding, with vast majority of proteins exhibiting the water channel phenotype [108]. The potential role of the AQP1 mediated conductance in the choroid plexus is also unknown. Boassa [104] did, however, observe that ANP reduced fluid secretion by choroid plexus cells, an effect which was partially reversed by 500 μM Cd2+. These data suggest that the activation of the non-selective conductance reduces secretion, possibly be dissipating the ion gradients across the cell membrane which are required for secretion.
5 Conclusion
The epithelial cells of the choroid plexus, which secrete CSF, express two K+ and two anion conductances. The properties of each conductance are such that they could all play a significant role in CSF secretion. The precise role of each, however, remains to be determined. In addition there is now evidence for the expression of a number of other channel proteins, e.g. P2X receptors and TRP channels. Patch clamp experiments are required to determine the functional roles of these channels in the choroid plexus.
Abbreviations
ABC:

adenosine triphosphate binding cassette
ADP:

adenosine diphosphate
ATP:

adenosine triphosphate
BKCa:

"maxi" Ca2+-activated K+ channels
Cav:

voltage-gated Ca2+ channels
CFTR:

cystic fibrosis transmembrane conductance regulator
ClC:

a family of voltage-dependent channels and transporters
CNS:

central nervous system
DIDS 4-4':

diisothiocyanatostilbene-2,2'-dislphonic acid (an anion channel blocker)
ENaC:

epithelial Na+ channels
fS:

femto (10-15) siemen (a measure of electrical conductance)
IKCa:

intermediate conductance Ca2+-activated K+ channels
Kir:

inward-rectifying K+ channel
Kv:

delayed-rectifier K+ channel
Nav:

voltage-gated Na+ channel
NPPB:

5-nitro-2-(3-phenylpropylamino)benzoic acid (an anion channel blocker)
PHCO3:PCl :

channel permeability to HCO3- relative to Cl- permeability
P:

domain pore forming domain of an ion channel
pS:

pico (10-12) siemen
ROC:

receptor operated channel
RT-PCR:

reverse transcriptase polymerase chain reaction
S:

transmembrane segment
siRNA:

interference RNA knock down
SKCa:

small conductance Ca2+-activated K+ channels
SOCE:

store-operated Ca2+ entry
TMD:

transmembrane domain
TRP:

transient receptor potential
UDP:

uridine diphosphate
UTP:

uridine triphosphate
Vm:

membrane potential
This list only includes frequently used standard abbreviations. Many channel proteins have abbreviated which are used as the accepted name:

these are defined where they arise in the text.
Declarations
Acknowledgements
This work was supported by grant 070139/Z/02 from the Wellcome Trust. The work of J.I.E.B is funded by a grant from the BBSRC.
Authors' Affiliations
(1)
Faculty of Life Sciences, Core Technology Facility, University of Manchester, Manchester, UK
Copyright
© Millar et al; licensee BioMed Central Ltd. 2007
This article is published under license to BioMed Central Ltd. This is an Open Access article distributed under the terms of the Creative Commons Attribution License (http://creativecommons.org/licenses/by/2.0), which permits unrestricted use, distribution, and reproduction in any medium, provided the original work is properly cited.