Aquaporins: relevance to cerebrospinal fluid physiology and therapeutic potential in hydrocephalus
Cerebrospinal Fluid Research
2010
7:15
Received: 7 June 2010
Accepted: 22 September 2010
Published: 22 September 2010
Abstract
The discovery of a family of membrane water channel proteins called aquaporins, and the finding that aquaporin 1 was located in the choroid plexus, has prompted interest in the role of aquaporins in cerebrospinal fluid (CSF) production and consequently hydrocephalus. While the role of aquaporin 1 in choroidal CSF production has been demonstrated, the relevance of aquaporin 1 to the pathophysiology of hydrocephalus remains debated. This has been further hampered by the lack of a non-toxic specific pharmacological blocking agent for aquaporin 1. In recent times aquaporin 4, the most abundant aquaporin within the brain itself, which has also been shown to have a role in brain water physiology and relevance to brain oedema in trauma and tumours, has become an alternative focus of attention for hydrocephalus research. This review summarises current knowledge and concepts in relation to aquaporins, specifically aquaporin 1 and 4, and hydrocephalus. It also examines the relevance of aquaporins as potential therapeutic targets in hydrocephalus and other CSF circulation disorders.
Keywords
HydrocephalusChoroid PlexusAQP4 ExpressionAqueduct StenosisOsmotic Permeability
Introduction
Aquaporins are a family of integral membrane proteins that function as water channels. The existence of such water channels had been postulated for some time as the passage of water across certain membranes is too rapid to be explained on the basis of diffusion through plasma membranes [1]. The identification of AQP1[2], initially named CHIP28 [3], was later followed by the identification of 12 other aquaporins. Aquaporins are distributed widely throughout the body but notably in the kidney, red blood cells, lung and secretory epithelia such as the salivary glands [1].
There are two main aquaporins within the CNS: AQP1 and 4 (Figure
1
). AQP1 is found in the apical membrane of the choroid plexus [
4
,
5
] (Figure
2
). It appears shortly after the choroid plexus in embryonic development [
6
] and is localised to the apical membrane. With ageing, choroidal AQP1 levels may be reduced [
7
]. AQP1 is also found in other organs such as red blood cells, salivary glands, cardiac muscle and kidneys. These findings appear consistent across species, but recently Arciénaga
et al
. [
8
] have demonstrated a more widespread distribution of AQP1 in non-human primates including white matter astrocytes, Schwann cells along oculomotor and trigeminal nerves as well as in neurons on the surface of pial blood vessels. AQP4 is located in the astrocyte foot processes that surround capillaries in the CNS as well as along the basolateral membrane of the ventricular ependymal cells. Its distribution appears consistent across species. A third aquaporin, AQP9, is also found within the CNS but is limited to small populations of catecholaminergic neurons as well as in astrocytes in cortical grey matter and hippocampus [
8
,
9
]. AQP9, being an aquaglyceroporin, also transports glycerol, lactate and other molecules [
10
,
11
]. It has been proposed to have a role in regulation of energy metabolism in the brain [
12
].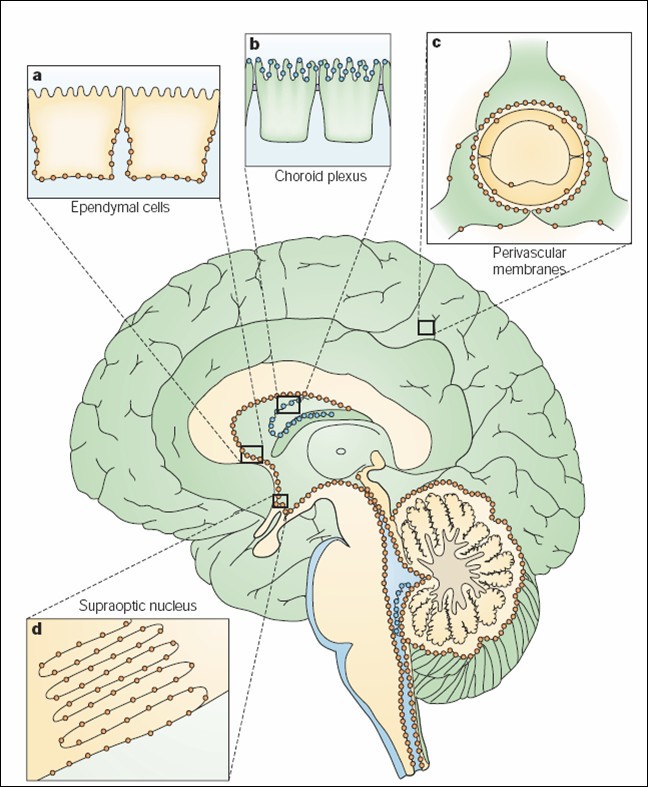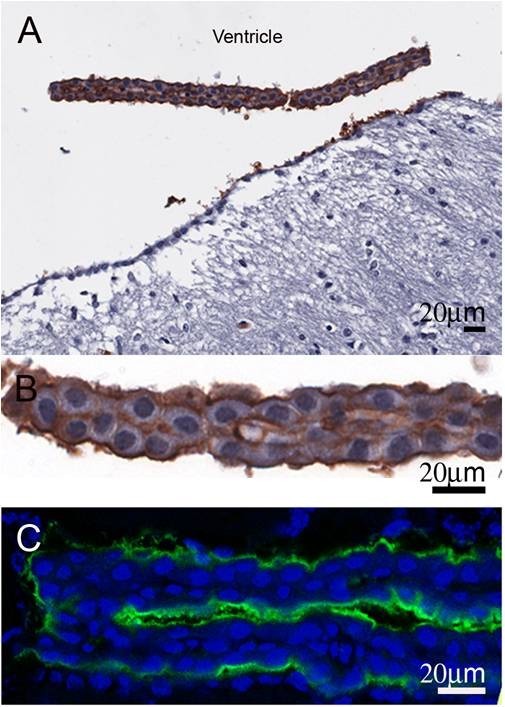 Naturally, the identification of a water channel protein in the apical membrane of the choroid plexus epithelium has generated interest in its role in CSF production, and consequently CSF circulation disorders. While AQP1 does appear to contribute to CSF production, its role in the pathophysiology of hydrocephalus has not been well studied and remains unclear. Studies demonstrating a role for AQP4 in relation to brain oedema in tumours, trauma and stroke as well as the observation that a small proportion of AQP4-null mice develop hydrocephalus, has also generated interest in the role of AQP4 in CSF circulation disorders.
There is no doubt that treatments for hydrocephalus and other CSF circulation disorders could be improved. Developing new technologies and improving CSF shunts and surgical procedures is important. However, more substantial improvements in the treatment of hydrocephalus are likely to be achieved by advancing knowledge of CSF physiology in health and disease [13]. Molecules such as aquaporins are an avenue of research through which the latter may be achieved. This review summarises current knowledge and concepts of CSF physiology and CSF circulation disorders as they relate to aquaporins. Strategies to further examine aquaporins in CSF circulation disorders are suggested.
Pharmacological modulation of AQP1 and AQP4
Determining the importance of AQP1 and 4 in hydrocephalus and CSF production would be facilitated by the availability of a non-toxic specific AQP1 or 4 blocking agents. Identifying such an AQP1 blocker remains a challenge [74]. It is known that AQP1 is blocked by Hg2+ and other mercurial compounds but these are toxic [75]. As mentioned, AQP4 has been considered insensitive to Hg2+ [76]. However more recently, Yukutake et al. [67] have suggested that the water permeability of the M23 isoform may be reduced by Hg2+. Tetraethylammonium (TEA) was also suggested as an AQP1 inhibitor [77] although the efficacy of TEA is likely to be minimal [78]. Corticosteroids have been reported to up-regulate AQP 1 in the rat lung [26], sheep fetal lung [79] as well as other tissues [80, 81]. There is as yet, no evidence that steroids influence choroidal AQP1. AQP4 expression is not altered by corticosteroids [74, 82].
Arylsulfonamides, including acetazolamide, a carbonic anhydrase inhibitor that is commonly used to reduce CSF production in the management of pseudotumor cerebri and other clinical situations, have been suggested as pharmacological blockers of AQP1 and 4. This has generated considerable controversy. Ma et al. [83] reported that acetazolamide reduced osmotic permeability via interaction with AQP1. Osmotic permeability was assessed using a swelling assay of Xenopus laevis oocytes expressing AQP1, and the same group reported similar findings in a swelling assay using human embryonic kidney (HEK292) cells expressing pEGFP/AQP1 [84]. Using the oocyte swelling assay, Huber et al. [85] reported that acetazolamide and several other compounds [86, 87] had some inhibitory affect on water permeability of AQP4. The oocyte swelling assay technique has been criticised, and using a stopped-flow light-scattering water permeability assay and a marker dilution technique Yang et al. found no evidence that acetazolamide inhibits AQP1 or 4 [78, 88]. In addition, using modifications of the Xenopus laevis oocyte osmotic permeability assay, Sorgaard & Zeuthen [89] found no effect of acetazolamide on AQP1. Recently Tanimura et al. [90] who also used a stopped-flow analysis technique, reported a reversible reduction in water permeability of AQP4 due to acetazolamide. The issue appears to remain unresolved with Huber and colleagues [86, 87, 91] continuing to argue in favour of an inhibitory effect of acetazolamide on AQP1 and 4.
A small inhibitory effect of bumetamide, a loop diuretic that blocks the Na-K-Cl co-transporter, on AQP4 water permeability [92] has lead to the development of other related molecules based on the structure of bumetamide. The arylsulfonamide AqB013 which has been reported by Yool et al. [93] to block both AQP1 and 4 is such an example although its therapeutic potential remains to be tested.
Other therapeutic strategies for AQP1 modulation
Apart from pharmacological blockade of AQP1, there are several other potential routes to modulation of AQP 1 expression, none of which have thus far been explored. These include methods to increase AQP1 degradation or reduction of AQP1 expression/transcription. Although our knowledge of the mechanisms and pathways underlying choroidal AQP1 regulation is lacking there are possible techniques that may be employed to increase AQP1 degradation. This includes the intraventricular administration of AQP1 antibodies which could potentially result in AQP1 internalisation and degradation, thus temporarily reducing CSF production. Further understanding the mechanisms through which AQP1 is internalised, as we have observed in our studies of choroidal AQP1 in hydrocephalic mice, may provide additional useful information to allow these pathways to be manipulated.
AQP1 knockdown
in vivo
, or gene therapy, is another potential tool for modulating AQP1 and thus CSF production. A small interfering RNA (siRNA) against AQP1 has been used by Boassa
et al
. [
94
] to study AQP1 function in choroid plexus cell culture. The use of si or shRNA, delivered though lentiviral or other vectors to transfect choroid plexus epithelial cells to reduce AQP1 expression may be feasible (Figure
8
) [
95
]. Splinter
et al
. [
96
] has used AQP1 siRNA to reduce AQP1 expression in isolated intrahepatic bile duct units in the rat. This resulted in reduced water transport in these bile duct units in response to both an osmotic challenge and a secretory agonist. Kim
et al
. [
97
] reported that TTF-1 (thyroid transcription factor -1) increased
AQP1
transcription. The 5' region of
AQP1
has multiple binding sites for TTF-1 the expression of which is also seen in the choroid plexus. Intraventricular injection of antisense TTF-1 oligodeoxynucleotide in rats resulted in a reduction of AQP1 mRNA and protein in the choroid plexus. These rats also had an increased survival compared to controls after water intoxification.

Conclusions
Aquaporin 1 makes a substantial contribution to CSF production and is a potential therapeutic target in the management of CSF circulation disorders. Aquaporin 4 is important in brain water homoeostasis and consequentially in conditions involving both cytotoxic and vasogenic oedema. In hydrocephalus AQP4 has a protective effect by allowing resorption of transependymal CSF into brain capillaries. There is considerable scope for improving our understanding of aquaporins in relation to CSF physiology in health and in diseases such as hydrocephalus. The ultimate potential of aquaporin modulators in the management of these conditions and others remains to be determined. Continued study of aquaporins in hydrocephalus and other conditions is needed.
Declarations
Acknowledgements
A/Prof Brian Owler and the Kids Neurosurgical Research Unit are supported by the Madeline Foundation for Neurosurgical Research and a grant from the Brain Foundation. Financial support for Dr Wang's salary and laboratory resources were provided by grants from: Madeline Foundation for Neurosurgical Research and the Brain Foundation. Financial support for Dr Pitham's salary and laboratory resources was provided by a grant from the Neurosurgical Society of Australasia.
Authors' Affiliations
(1)
Kids Neurosurgical Research Unit, Institute of Neuroscience and Muscle Research, Kids Research Institute, Children's Hospital at Westmead, Westmead, Australia
(2)
TY Nelson Department of Neurology and Neurosurgery, Children's Hospital at Westmead, Hawkesbury RdWestmead, Australia
(3)
Discipline of Child Health and Paediatrics, Children's Hospital at Westmead Clinical School, University of Sydney, Westmead, Australia
Copyright
© Owler et al; licensee BioMed Central Ltd. 2010
This article is published under license to BioMed Central Ltd. This is an Open Access article distributed under the terms of the Creative Commons Attribution License (http://creativecommons.org/licenses/by/2.0), which permits unrestricted use, distribution, and reproduction in any medium, provided the original work is properly cited.