Pathogenesis of cerebral malformations in human fetuses with meningomyelocele
Cerebrospinal Fluid Research
2008
5:4
Received: 07 November 2007
Accepted: 01 March 2008
Published: 01 March 2008
Abstract
Background
Fetal spina bifida aperta (SBA) is characterized by a spinal meningomyelocele (MMC) and associated with cerebral pathology, such as hydrocephalus and Chiari II malformation. In various animal models, it has been suggested that a loss of ventricular lining (neuroepithelial/ependymal denudation) may trigger cerebral pathology. In fetuses with MMC, little is known about neuroepithelial/ependymal denudation and the initiating pathological events.
The objective of this study was to investigate whether neuroepithelial/ependymal denudation occurs in human fetuses and neonates with MMC, and if so, whether it is associated with the onset of hydrocephalus.
Methods
Seven fetuses and 1 neonate (16–40 week gestational age, GA) with MMC and 6 fetuses with normal cerebral development (22–41 week GA) were included in the study. Identification of fetal MMC and clinical surveillance of fetal head circumference and ventricular width was performed by ultrasound (US). After birth, MMC was confirmed by histology. We characterized hydrocephalus by increased head circumference in association with ventriculomegaly. The median time interval between fetal cerebral ultrasound and fixing tissue for histology was four days.
Results
At 16 weeks GA, we observed neuroepithelial/ependymal denudation in the aqueduct and telencephalon together with sub-cortical heterotopias in absence of hydrocephalus and/or Chiari II malformation. At 21–34 weeks GA, we observed concurrence of aqueductal neuroepithelial/ependymal denudation and progenitor cell loss with the Chiari II malformation, whereas hydrocephalus was absent. At 37–40 weeks GA, neuroepithelial/ependymal denudation coincided with Chiari II malformation and hydrocephalus. Sub-arachnoidal fibrosis at the convexity was absent in all fetuses but present in the neonate.
Conclusion
In fetal SBA, neuroepithelial/ependymal denudation in the telencephalon and the aqueduct can occur before Chiari II malformation and/or hydrocephalus. Since denuded areas cannot re-establish cell function, neuro-developmental consequences could induce permanent cerebral pathology.
Keywords
Hydrocephalus
Ependymal Cell
Germinal Matrix
Cerebral Aqueduct
Denude Area
Background
Spina bifida aperta (SBA) is associated with cerebral pathology, such as hydrocephalus, Chiari II malformation, heterotopias and cortical abnormalities [1–3]. In SBA, ventriculomegaly of the posterior horns (i.e. colpocephaly) is already present during fetal life. Because of open communication between the posterior and frontal horns, colpocephaly must reflect an ex vacuo phenomenon. However, during the first weeks after birth, high-pressure hydrocephalus is present in the majority of SBA neonates. Little is known about the pathogenesis of these cerebral abnormalities.
According to various animal models, loss of neuroepithelial/ependymal cells is associated with hydrocephalus [4, 5]. Analogous to these observations in laboratory animals, Sarnat reported presence of ependymal denudation in human hydrocephalic infants [6]. In these hydrocephalic infants, a positive relationship between the amount of ventricular distension and the area of ependymal denudation was indicated [6]. In accordance with Sarnat, Domínguez-Pinos et al. reported presence of ependymal denudation in fetuses with mild communicating hydrocephalus of various origins [7]. However, these fetuses did not show a positive relationship between ventricular dilatation and ependymal denudation [7]. In fetal SBA, information on a potential relationship between hydrocephalus and ependymal denudation is still lacking. Since prenatal surgical closure of the MMC can prevent hydrocephalus and Chiari II malformation [8], insight into such a relationship would be clinically relevant. If hydrocephalus triggers neuroepithelial/ependymal denudation, prevention of hydrocephalus could attenuate loss of neuroepithelial and ependymal cells. Alternatively, neuroepithelial/ependymal denudation and hydrocephalus could share a common etiology. This may involve a primary alteration of the neuroepithelium or ependyma before the initiation of hydrocephalus, as described in hyh mutant mice [9]. In such animal models, the process of neuroepithelial/ependymal denudation is associated with other pathology, such as: abnormalities of junction proteins, abnormal migration of disassembled ependymal cells (into the ventricle and neuropil; i.e. ependymal rosettes), and arrival of numerous macrophages at the site of denudation [4, 10, 11]. If analogous pathological sequences are involved in human fetuses with MMC, prenatal treatment of hydrocephalus would not prevent neuroepithelial/ependymal denudation. In this respect, investigation of the association between neuroepithelial/ependymal abnormalities and fetal ultrasound (US) measurements (ventriculomegaly/hydrocephaly) may provide new therapeutic insight.
In the present study, we hypothesize that neuroepithelial/ependymal denudation can be initiated before hydrocephalus. If so, this would implicate that both abnormalities can share a common etiology rather than the former being a consequence of the latter. Hence, in this study, we associated longitudinal ultrasound (US) parameters for hydrocephalus with the occurrence of neuroepithelial/ependymal denudation.
Results
The cranial border of the MMC was located at cervical (n = 1), thoracic (n = 3) or lumbar (n = 4) segmental levels. One fetus was diagnosed with OEIS complex (omphalocele, exstrophy, imperforate anus, spinal defects; case 5). Malformations other than ventriculomegaly and Chiari II malformation are presented in Table 1.
Fetal cerebral US assessments (Table 2)
Table 2
Relation between cerebral malformations and hydrocephalus
| Case | GA | ED | V | hc > 2 | HC | Chiari II | HemoP/Gliosis | Morphologic alteration aqueduct |
| --- | --- | --- | --- | --- | --- | --- | --- | --- |
| 1 | 16 | + | - | - | - | - | ¶ | ¶ |
| 2 | 21 | + | - | - | - | + | + | f |
| 3 | 21 | - | - | - | - | + | ¶ | ¶ |
| 4 | 22 | + | + | - | - | + | + | s |
| 5 | 34 | - | - | - | - | - | ¶ | ¶ |
| 6 | 37 | + | + | + | + | + | + | f |
| 7 | 39 | + | - | - | - | IV | + | f |
| 8 | 40 | + | + | + | + | + | + | f; s |
In case one, a fetus of 16 weeks GA, there were no signs of ventriculomegaly or Chiari II malformation. In fetuses of 21–22 weeks GA (3 fetuses), signs of Chiari II malformation (3/3) and ventriculomegaly (1/3) were present. In fetuses of 37–40 weeks GA (3 fetuses), hydrocephalus (2/3) became additionally present. In the fetus with OEIS complex (case 5; 34 weeks GA), ventriculomegaly and Chiari II malformation were absent.
Neonatal MRI assessment
In the neonate (case 7, 39 weeks GA) that lived for the first postnatal week, neonatal MRI was performed at day 3. In this case, the MRI indicated absence of the cerebellum, a small brainstem and a prominent cisterna magna. This malformation is also referred to as Chiari IV malformation [19], Table 2. At day 3, MRI did not reflect signs for high intracranial pressure (such as signs of trans-ependymal CSF leakage on T2 weighted images or compression of peripheral CSF spaces).
Histological findings
Cerebral aqueduct
The cerebral aqueduct of young fetuses (21, 21 weeks GA) was lined by a multilayered neuroepithelium whereas the aqueduct of older fetuses (27, 39 and 40 weeks GA) was lined by immature ependyma. Both neuroepithelium and ependyma reacted strongly with anti-caveolin (Fig.
1A
). In six of eight fetuses (16–40 weeks GA), neuroepithelial/ependymal denudation (characterized by astrogliosis) was present (Figs.
1A–C
). The denuded area ranged from a few ependymal cells up to a few millimeters in length (Figs.
1A–C
,
2D
,
3A
). Several denuded areas could be found throughout the series of sections of the aqueduct. The number of denuded areas varied between cases. Additionally, histological signs for hemosiderophagocytosis were present (3/6) (Fig.
2D
). In five cases, sections of the aqueduct were complete for morphological assessment. In these cases, ependymal denudation concurred with malformations of the aqueduct (such as forking (4/5), slit-like deformities (2/5) and sub-ependymal rosette formation (cases 6 and 8, 37–40 weeks GA), see Figs.
2A–E
,
3A
.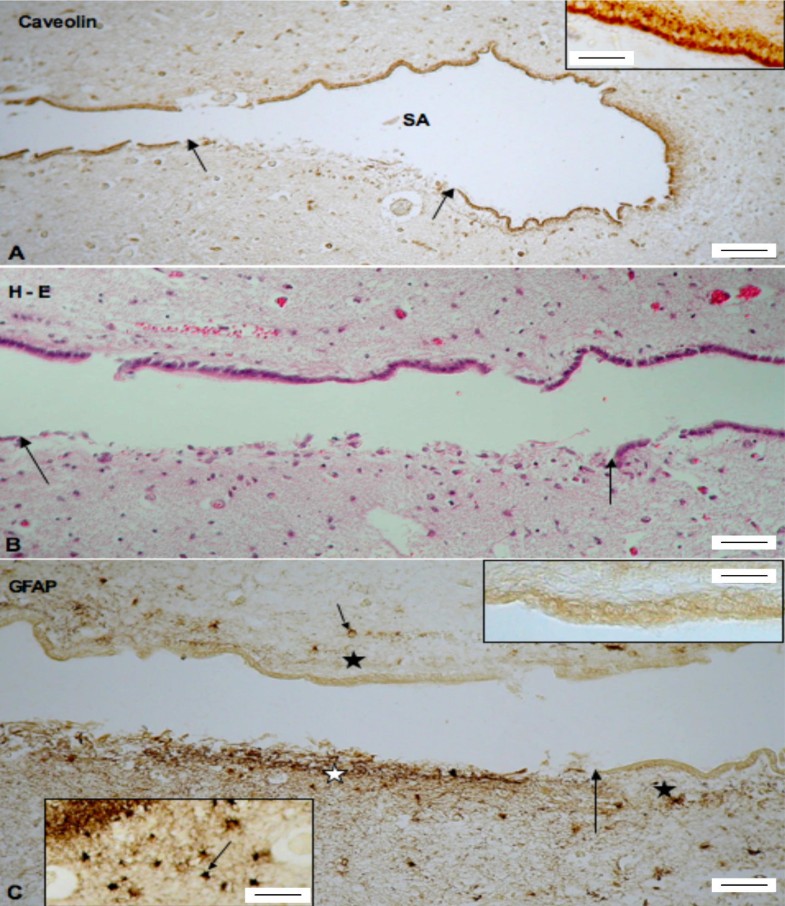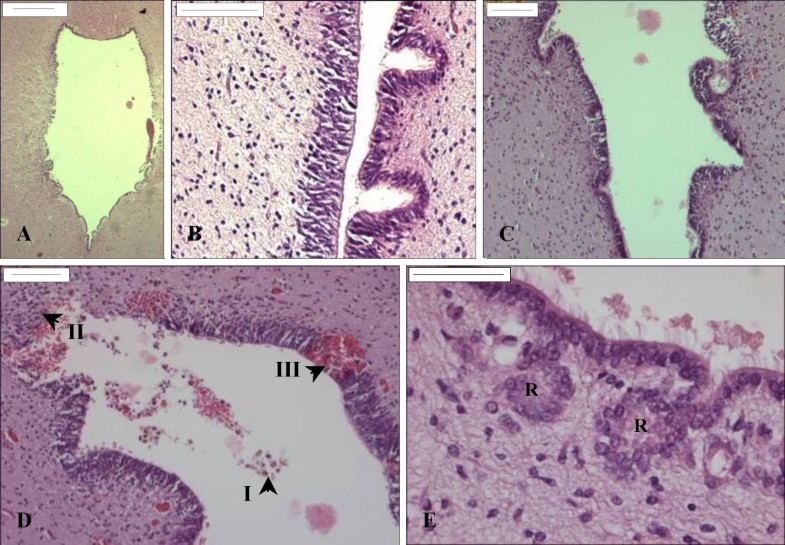 Telencephalon
At the telencephalon, neuroepithelial/ependymal denudation seemed associated with sub-ventricular heterotopias (16 week GA, Fig. 3B).
The individual relationship between US findings and histological assessments is indicated in Table 2. In all control fetuses, this pathology (ependymal denudation, sub-ventricular heterotopias, gliosis and deformities) was absent.
Cerebral hemorrhage
In all SBA fetuses, recent delivery-related cerebral bleedings were indicated by the presence of numerous (fresh) erythrocytes. These hemorrhages were observed at intra-ventricular (6/7), sub-arachnoidal (4/7) and intra-parenchymal locations (Table
I
). In the available histological preparations of the convexity, sub-arachnoidal fibrosis was absent from all succumbed SBA fetuses (n = 7), whereas it was present in the neonate that survived for the first postnatal week (case 7). The time relationship between histological and radiological assessments in SBA patients is shown in figure
4
. In control fetuses, recent cerebral hemorrhage was present in two out of six fetuses, and sub-arachnoidal fibrosis was absent.

The study also included parts of basal ganglia/thalamus, cerebellum and 4th ventricle (in 7/8, 8/8 and 7/8 cases; respectively). Neuro-pathological findings at these regions were: abnormal fusion or hemorrhages at basal ganglia/thalamus (cases 1 and 7, respectively); cerebellar a- or hypoplasia (cases 7 and 8, respectively) and hemorrhages in the 4th ventricle (cases 2, 3, 5, 6 and 8). In case 3, there was a hemorrhage at the choroid plexus.
Discussion
In perinatal SBA, we associated the initiation of cerebral pathology with the concurrence of neuroepithelial/ependymal denudation at the aqueduct. In contrast to the controls, fetuses with MMC displayed neuroepithelial/ependymal denudation at the aqueduct. Our data indicate that neuroepithelial/ependymal denudation may precede hydrocephalus and Chiari II malformation.
Most ependymal cell lineages are born and mature at fixed stages of fetal development [5, 20]. After closure of the neural tube, choroid plexus villi start to produce cerebrospinal fluid (CSF) [21]. Studies in animal models and humans have shown that this CSF contains essential molecules for neural proliferation and migration [22–27], which is predominantly secreted by choroid plexus and sub-commissural organ [28]. Additionally, fetal ependymal cells can release molecules via their long basal ependymal processes that extend into germinal matrix and white matter. These processes may have a trophic function and provide axonal guidance [5]. Once secreted into CSF, molecules follow the CSF flow, reach distant subventricular zones and, through the subarachnoidal space, the external surface of the developing cerebral cortex [28, 29]. This CSF flow is maintained by hydrostatic pressure, arterial pulsations and beating of ependymal cilia [30, 31]. When ependymal cells are damaged, functional restoration does not occur [20]. In a previous study, we have indicated that CSF growth factor concentrations (TGF-β) are comparatively low in neonatal hydrocephalic SBA [27]. Additionally, other proteins (such as vimentin) appear over-expressed in Chiari II malformation and aqueduct stenosis [32, 33]. These altered concentrations of signaling molecules may influence cerebral development [3].
In fetuses with communicating hydrocephalus, ependymal denudation and/or damage has been described as a consequence of ventricular distension (hydrocephalus) [6]. If such a causative relationship also exists in fetuses with MMC, closure of the MMC may prevent both hydrocephalus and the negative consequences of ependymal denudation. However, our present data indicate that neuroepithelial/ependymal denudation can occur before the onset of hydrocephalus. This is in agreement with the concurrence of ependymal denudation with neural migration disorders in absence of hydrocephalus (i.e. lissencephaly and pachygyria) [34].
The presence of neuroepithelial/ependymal denudation implies loss of progenitor cells. A likely fate of these cells is the CSF, as suggested by findings in human hydrocephalic fetuses [7] and human fetuses with MMC [35]. In accordance with cellular loss into CSF, it has been shown that progenitor cells can be harvested from CSF in preterm hydrocephalic infants [36]. As a consequence, neural proliferation, migration [37] and corticogenesis [5] may be consecutively impaired. Accordingly, we observed cellular heterotopias and abnormal neural migration (at the germinal matrix, n = 1, and cortex, n = 2). For further substantiation, more extensive studies of the lateral ventricles and cerebral cortex of fetuses with MMC are required.
Previous studies have described macrophage invasion and astrogliosis at the denuded areas [7, 10]. Accordingly, we also observed invasion of macrophages and astrogliosis in human fetal MMC (figures 1, 2, 3, and 4). Subsequent gliosis and scarring of denuded areas may result in aggregates of ependymal cells in the subventricular zone and lead to the formation of subependymal rosettes [5, 38–40].
With ongoing gestation, fetal US recordings indicated concurrence of Chiari II malformation and hydrocephalus. Especially during delivery, these malformations are associated with enhanced risk for venous compression (at the large sinuses) and cerebral hemorrhage [41]. In all our patients with MMC, we observed fresh erythrocytes, which suggest recent, delivery-related cerebral hemorrhages. In accordance with a recent onset of these hemorrhages, fetal arachnoidal fibrosis (at the convexity) was absent in all (n = 7) fetuses with MMC, whereas it was present in the neonate with MMC (n = 1). In this patient, clinical history did not reveal another cause for arachnoidal fibrosis. These data may implicate that prenatal presence of progressive ventriculomegaly (and/or hydrocephalus) in fetal SBA is not related to (fibrosis-induced) malabsorption at the convexity.
Conclusion
The present investigation on human fetal SBA indicates that neuroepithelial/ependymal denudation and abnormal neural migration can occur before the onset of hydrocephalus and Chiari II malformation. Since denuded areas do not re-establish function, fetal SBA surgery is unlikely to prevent these abnormalities.
Abbreviations
CSF:

Cerebrospinal fluid
DAB:

Diaminobenzidine substrate
GA:

Gestational age
MMC:

Meningomyelocele
MRI:

Magnetic resonance imaging
SBA:

Spina bifida aperta
TGFβ-1:

Transforming growth factor beta-1
US:

Ultrasound.
Declarations
Acknowledgements
The authors wish to thank Mrs. Kunst and Mrs. den Dunnen-Briggs for their administrative help and correction of the English grammar. EMR was supported by Grants from Fondecyt 1070241, Chile.
Authors' Affiliations
(1)
Department of Neurology, University Medical Center, University of Groningen, Groningen, The Netherlands
(2)
Department of Pathology and Laboratory Medicine, University Medical Center, University of Groningen, Groningen, The Netherlands
(3)
Department of Obstetrics and Gynecology, University Medical Center, University of Groningen, Groningen, The Netherlands
(4)
Instituto de Anatomía, Histologíca y Patología Facultad de Medicina, Universidad Austral de Chile, Valdivia, Chile
(5)
Department of Radiology, University Medical Center, University of Groningen, Groningen, The Netherlands
(6)
Department of Pediatrics, University Medical Center, University of Groningen, Groningen, The Netherlands
Copyright
© de Wit et al; licensee BioMed Central Ltd. 2008
This article is published under license to BioMed Central Ltd. This is an Open Access article distributed under the terms of the Creative Commons Attribution License (http://creativecommons.org/licenses/by/2.0), which permits unrestricted use, distribution, and reproduction in any medium, provided the original work is properly cited.