Effect of hydrocephalus on rat brain extracellular compartment
Cerebrospinal Fluid Research
2008
5:12
Received: 24 March 2008
Accepted: 10 July 2008
Published: 10 July 2008
Abstract
Background
The cerebral cortex may be compressed in hydrocephalus and some experiments suggest that movement of extracellular substances through the cortex is impaired. We hypothesized that the extracellular compartment is reduced in size and that the composition of the extracellular compartment changes in rat brains with kaolin-induced hydrocephalus.
Methods
We studied neonatal (newborn) onset hydrocephalus for 1 or 3 weeks, juvenile (3 weeks) onset hydrocephalus for 3–4 weeks or 9 months, and young adult (10 weeks) onset hydrocephalus for 2 weeks, after kaolin injection. Freeze substitution electron microscopy was used to measure the size of the extracellular compartment. Western blotting and immunohistochemistry with quantitative image densitometry was used to study the extracellular matrix constituents, phosphacan, neurocan, NG2, decorin, biglycan, and laminin.
Results
The extracellular space in cortical layer 1 was reduced significantly from 16.5 to 9.6% in adult rats with 2 weeks duration hydrocephalus. Western blot and immunohistochemistry showed that neurocan increased only in the periventricular white matter following neonatal induction and 3 weeks duration hydrocephalus. The same rats showed mild decorin increases in white matter and around cortical neurons. Juvenile and adult onset hydrocephalus was associated with no significant changes.
Conclusion
We conclude that compositional changes in the extracellular compartment are negligible in cerebral cortex of hydrocephalic rats at various ages. Therefore, the functional change related to extracellular fluid flow should be reversible.
Keywords
White Matter
Apparent Diffusion Coefficient
Hydrocephalus
Dermatan Sulfate
Periventricular White Matter
Background
Hydrocephalus is characterized by enlargement of the cerebrospinal fluid (CSF)-containing ventricles of the brain. Several factors including tissue compression, stretching of axons, ischemia, and calcium-mediated proteolysis simultaneously contribute to axon injury in periventricular white matter [1, 2]. We have also postulated that movement and composition of extracellular fluids are altered with potential reversible effects on neuronal function [3] and Hakim suggested that the brain behaves like a compressed sponge with reduction of the extracellular compartment [4]. Although the periventricular white matter extracellular compartment is enlarged in progressive hydrocephalus [3, 5], several types of evidence suggest that the more superficial parts of brain are indeed compressed. Tissue density measurements in adult rabbits with silicone oil-induced hydrocephalus indicated increased density (possibly decreased water content) in cortical gray matter [6], although this was not replicated in a similar study that used wet-dry weight comparisons [7]. Computed tomography scanning of human brains suggests that brain hydration is reduced when the ventricles expand [8]. Freeze-substitution electron microscopic studies of hy-3 mutant mice show that the extracellular compartment in the superficial cerebral cortex is initially compressed and subsequently enlarged [9]. Increased electrical impedance has been interpreted as a reflection of decreased water content in thalamus of hydrocephalic cats [10]; similar findings have been obtained in human studies [11, 12]. Apparent diffusion coefficient (ADC) mapping in rats with hydrocephalus suggest that the movement of water in rat brain is restricted in gray matter but not in white matter [13]. Extracellular infusion of gadolinium-DTPA followed by repeated magnetic resonance (MR) imaging [14] and real-time iontophoretic tetramethylammonium diffusion studies [15] suggest that the extracellular flow and volume fraction is reduced in the cerebral cortex of rats with kaolin-induced hydrocephalus. In the H-Tx rat with congenital hydrocephalus, ionic composition studies suggest that the extracellular compartment in the cortex is enlarged 4–21 days after birth [16] while iontophoretic studies indicate that the extracellular volume fraction is reduced [15]. In conjunction with the obstruction to CSF outflow, composition of the CSF is altered [17].
It is important to determine if this impairment of extracellular flow in hydrocephalic brains is purely due to physical compression, which could be reversible upon shunting, or if there are structural or compositional changes in the extracellular compartment. If the latter is true, then flow of metabolic waste products might not be reversible by shunting. We hypothesized that hydrocephalus is associated with narrowing of the extracellular space and that chronic hydrocephalus is associated with changes in the extracellular matrix composition. The goals of this experiment were to define the compositional changes of rat brain extracellular matrix constituents in neonatal acute and subacute, juvenile subacute and chronic hydrocephalus rats in comparison to age-matched controls, and to examine anatomical and functional changes in the extracellular compartment. We studied the chondroitin/dermatan sulfate proteoglycans: phosphacan [18], neurocan (which is a member of the lectican family) [19], and NG2 [20], and the two small leucine-rich proteoglycans: decorin and biglycan [21]. These extracellular proteins have chains of glycosaminoglycans bound to core proteins. With the additional use of less specific histochemical stains, we covered most of the major classes of extracellular substances in the brain. We also studied the basal lamina-associated protein laminin [22]. We used freeze-substitution electron microscopy [23, 24] to assess relative dimensions of the cortical extracellular space. This method is one of the only ways to assess the physical characteristics of the extracellular compartment independent of its functional status by avoiding the cellular swelling that occurs using conventional fixation methods [25, 26]. It is, however, limited in the depths to which preservation is acceptable.
Results
As stated above, the age of the rats refers to the age at time of sacrifice (Table 1).
Protein detection in cerebrum homogenates
Neurocan was detected at approximately 250–350 kDa [
34
] after chondroitinase digestion. The bands were prominent at 1 week, less so at 3 weeks, and almost undetectable by 7 weeks. In the 3-week rats (but not at other ages), hydrocephalus was associated with a significantly increased band density (Figure
2
). We detected the intact soluble form of phosphacan (350–500 kDa) after chondroitinase digestion, in addition to a lower molecular weight form (180–250 kDa) [
35
]. Phosphacan declined gradually with maturation (1 week to 10 months) but there were no changes associated with hydrocephalus (not shown). Decorin was detected at about 45 kDa [
30
]; it was more abundant in the 10 month rat brain than at other ages, but there were no changes associated with hydrocephalus (not shown). NG2, another large proteoglycan 300 kDa in size [
20
], was readily apparent in animals 1 week to 3 weeks age, but undetectable in the older rats. There were no changes associated with hydrocephalus (not shown). Laminin was detected as a doublet band near 200 kDa and a single band at 400 kDa [
36
]. It was abundant at 1 and 3 weeks age, decreased significantly by 7 weeks and was nearly undetectable in the oldest rats. There were no changes associated with hydrocephalus (not shown).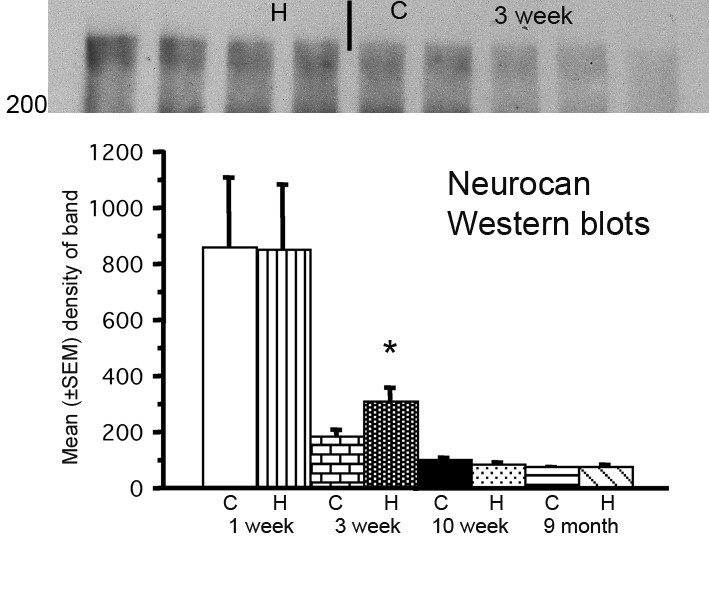 Histological detection of extracellular substances
There was negligible PASd staining of proteoglycans and glycoproteins in 1-week rat brains. In brains from rats 3 weeks and older there was generally an even distribution in the gray matter with slightly more intense staining at the glia limitans and surrounding blood vessels. White matter stained less intensely than gray matter, except in the striatum. In control 1 week and 3 week rat brains the cortex and white matter stained diffusely with Alcian blue. This was negligible in normal rats 7 weeks and older, although scattered neurons in the cortex were surrounded by a narrow but distinct layer, corresponding to the perineuronal nets [37]. For PASd and Alcian blue there was no difference between hydrocephalic and control rats of any age group in any location.
Neurocan immunoreactivity was present in an extracellular pattern throughout most of the brain tissue, most prominent in the outer cortex and glia limitans. Only white matter labeling was significantly increased in hydrocephalic rats at 3 weeks age (Figure
3
). Phosphacan immunoreactivity was similar to that of neurocan, with a prominent extracellular distribution in the cortex and less intense labeling in the white matter. The glia limitans was prominently labeled in rats 12 weeks and older. The frayed periventricular white matter of hydrocephalic rats 1 and 3 weeks age was more intensely labeled than in controls; however this was not statistically significant (not shown). NG2-labeling was not observed in normal brains. In hydrocephalic brains, stellate cells in the white matter were labeled. Decorin, unlike phosphacan and neurocan, exhibited negligible immunoreactivity in control brains at 1 and 3 weeks age but was detectable diffusely in the glia limitans and cortical layer 1 of rats 12 weeks and older. Perineuronal and white matter labeling was more prominent in 1 week and 3 week hydrocephalic rats (Figure
4
). In normal rat brains, biglycan immunolabeling appeared very similar to decorin; however no changes were seen in hydrocephalic rats at any age. Laminin was detected mainly at the glia limitans and surrounding blood vessels; there were no changes in hydrocephalic rats. In no age group for any of the substances studied, were changes observed in the caudatoputamen.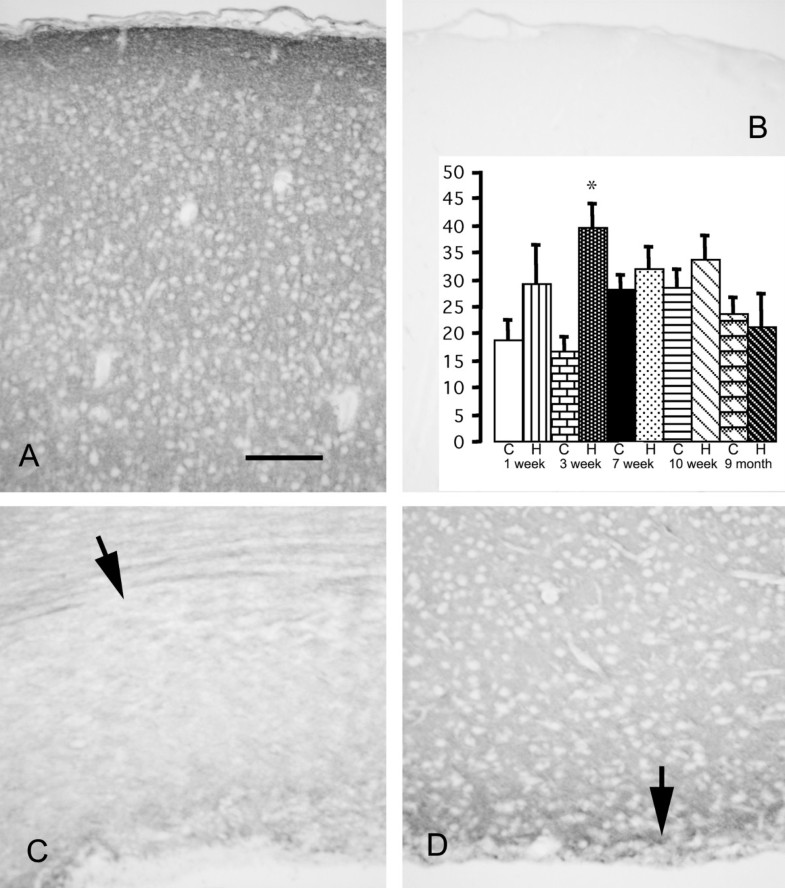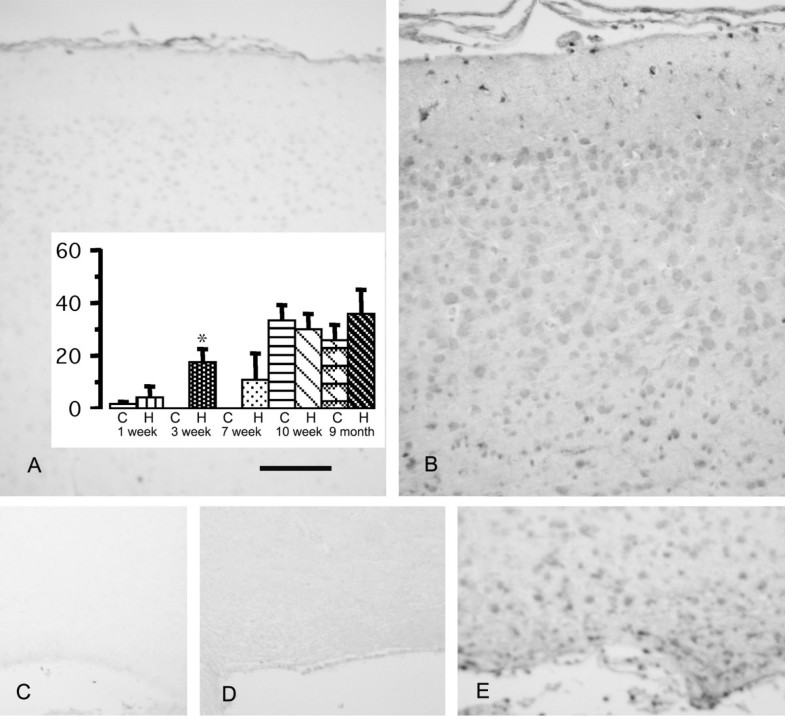 Electron microscopy
In 12-week-old hydrocephalic rats (duration 2 weeks), water content in the cerebrum (cortex + white matter) was significantly increased (85.0 ± 0.3% hydrocephalic vs. 82.9 ± 0.4% control;
p
= 0.0381). Ultrastructural analysis of freeze substituted samples from layer 1 of the cerebral cortex showed that hydrocephalus was associated with significant compression of the extracellular compartment (relative volume 9.6 ± 1.2% in hydrocephalic vs. 16.5 ± 2.7% in control;
p
= 0.0141) (Figure
5
).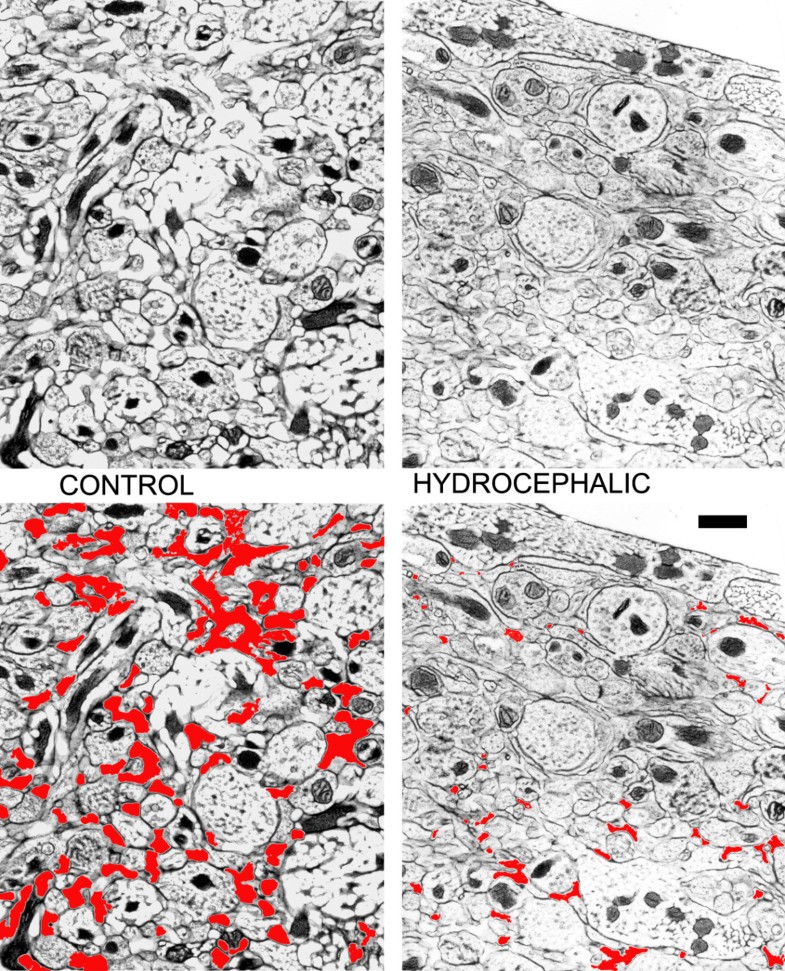 Discussion
A variety of experiments, outlined in the background section, suggest directly or indirectly that the extracellular compartment of the cerebral cortex of hydrocephalic brain is compressed, thereby impairing movement of extracellular solutes. From a functional standpoint, it is important to know if there are permanent compositional changes, because these might impact on the reversibility. Conceivably, the composition might be altered as a consequence of synthesis by reactive cells in the brain. We verified by freeze substitution electron microscopy that the extracellular compartment of cortical layer 1 in hydrocephalic rat brains is indeed compressed. Unfortunately, this method cannot be used to study deeper sites [23, 38]. Our previous MR studies using the 12-week rat also indicated that the extracellular compartment of the cortex was compressed, with the ADC reduced in gray matter and increased in white matter [13]. In hydrocephalic cats, the extracellular compartment in the cerebral cortex was reported to be comparable to controls [39]. However, conventional electron microscopy fixation methods are typically associated with cellular swelling and tissue shrinkage that lead to underestimation of the extracellular compartment [26]. Increased water content in the cerebral sample is not contradictory with contracted cortical extracellular compartment. It is likely influenced by the edematous white matter [3], and we cannot exclude the possibility of cortical cell swelling, as has been documented in hydrocephalic cats [40].
In a cDNA microarray screening analysis of hydrocephalic rat brains, we had identified elevations of the mRNA for neuroglycan C precursor in the 7 week and 10 month rats, decreased expression of the mRNA for bamacan in 7 week brains, decreased expression of mRNA for biglycan in 12 week brains, and increased mRNA for biglycan in 10 month brains [41]. Despite this, our screening of extracellular proteoglycans and glycoproteins using quantitative histochemical and antibody methods suggest that compositional changes are minimal, even when hydrocephalus persists for many months. Statistically significant changes limited to neurocan and decorin were seen only in the youngest rats. This does not appear to be dependent on the size or duration of ventriculomegaly because the 7 week and 10 month groups had longer durations of equally severe ventricular enlargement. It should be noted that we have not done a comprehensive assessment of time dependent accumulation from a single starting point. Nevertheless, the data do suggest that 2–3 weeks of hydrocephalus is associated with changes in neonatal-onset, but not juvenile or adult-onset, hydrocephalus. Thus the changes seem to be dependent on the age of the animal. In the youngest rats hydrocephalus began at a developmental stage roughly equivalent to that of a human fetus or premature infant [42]. The relatively greater persistence of chondroitin sulfate proteoglycans (CSPGs) at this age might reflect an attempt by the brain to remain plastic in the situation of ongoing damage [21, 43].
Neurocan is a CSPG of the lectican (hyalectan) family. It is secreted primarily by immature neurons and expression decreases after the first postnatal week in rodents [44]. Our findings in control rats are consistent with these data. We observed slight increases in only the white matter of 3-week-old rats with hydrocephalus. The likely source of neurocan here is activated astrocytes [19, 45]. Phosphacan, another large CSPG [46], did not change in association with hydrocephalus. NG2, a large transmembrane CSPG that can be cleaved proteolytically to become a secretory molecule [47], was detected around cells in the damaged white matter of hydrocephalic brains. These cells are likely oligodendroglial precursors or macrophages/microglia [48]. Biglycan is a small proteoglycan with chondroitin sulfate and dermatan sulfate side chains. It is upregulated following experimental brain injury [49], but its expression did not change in hydrocephalus. Decorin, a related small leucine-rich proteoglycan exhibited increased immunoreactivity in the superficial cortex and white matter of 3-week hydrocephalic rats. No changes were observed in rats with hydrocephalus that persisted for 9 months.
Our study did not include all brain extracellular substances. We did not assay other proteoglycans of the lectican family (e.g. aggrecan, versican, or brevican), hyaluronan, or tenascin, which all interact in the extracellular compartment [50]. Nor did we examine all of the basement membrane-associated proteins (e.g. collagen type IV, fibronectin, vitronectin, etc.) [51]. Nevertheless, we did sample proteins of various classes and also used nonspecific histochemical staining methods, and found that there were only limited changes in the cortex of the youngest brains or in the white matter where structural damage and reactive changes are known to be prominent in hydrocephalus.
Conclusion
We conclude that kaolin-induced hydrocephalus in rats is associated with compression of the extracellular compartment in the cerebral cortex. In this experiment we showed this with morphologic techniques for the outer cortical layer of adult rats; others have shown using functional experiments that this is more widespread. There are only minimal changes in the extracellular proteoglycan composition when hydrocephalus begins in the neonatal period, but there are no changes when hydrocephalus begins in the juvenile or adult periods. The volume and tortuosity, which is influenced by the extracellular substances and cell configuration of the extracellular compartment, determine the ability of solutes to diffuse and move by bulk flow [52]. From a functional perspective this is important because impairments in extracellular solute flow associated with hydrocephalus should be largely reversible after correction of the ventriculomegaly.
List of abbreviations
ADC:

Apparent diffusion coefficient
ANOVA:

analysis of variance
CSF:

cerebrospinal fluid
CSPG:

chondroitin sulfate proteoglycan
MR:

magnetic resonance
PASd:

periodic acid-Schiff/diastase
PBS:

phosphate buffered saline
Declarations
Acknowledgements
Funding for this work came from the Canadian Institutes of Health Research. Dr. Del Bigio holds the Canada Research Chair in Developmental Neuropathology. We thank Yvette Quass and Marla Wilson for assistance with the electron microscopy, Osaama Khan for assistance with the rats, and Dr. Richard Buist for assistance with the MR imaging.
Authors' Affiliations
(1)
Department of Pathology, University of Manitoba, and Manitoba Institute of Child Health, Winnipeg, Canada
Copyright
© Del Bigio and Enno; licensee BioMed Central Ltd. 2008
This article is published under license to BioMed Central Ltd. This is an Open Access article distributed under the terms of the Creative Commons Attribution License (http://creativecommons.org/licenses/by/2.0), which permits unrestricted use, distribution, and reproduction in any medium, provided the original work is properly cited.