Molecular biology of the blood-brain and the blood-cerebrospinal fluid barriers: similarities and differences
Fluids and Barriers of the CNS
2011
8:3
Received: 31 October 2010
Accepted: 18 January 2011
Published: 18 January 2011
Abstract
Efficient processing of information by the central nervous system (CNS) represents an important evolutionary advantage. Thus, homeostatic mechanisms have developed that provide appropriate circumstances for neuronal signaling, including a highly controlled and stable microenvironment. To provide such a milieu for neurons, extracellular fluids of the CNS are separated from the changeable environment of blood at three major interfaces: at the brain capillaries by the blood-brain barrier (BBB), which is localized at the level of the endothelial cells and separates brain interstitial fluid (ISF) from blood; at the epithelial layer of four choroid plexuses, the blood-cerebrospinal fluid (CSF) barrier (BCSFB), which separates CSF from the CP ISF, and at the arachnoid barrier. The two barriers that represent the largest interface between blood and brain extracellular fluids, the BBB and the BCSFB, prevent the free paracellular diffusion of polar molecules by complex morphological features, including tight junctions (TJs) that interconnect the endothelial and epithelial cells, respectively. The first part of this review focuses on the molecular biology of TJs and adherens junctions in the brain capillary endothelial cells and in the CP epithelial cells. However, normal function of the CNS depends on a constant supply of essential molecules, like glucose and amino acids from the blood, exchange of electrolytes between brain extracellular fluids and blood, as well as on efficient removal of metabolic waste products and excess neurotransmitters from the brain ISF. Therefore, a number of specific transport proteins are expressed in brain capillary endothelial cells and CP epithelial cells that provide transport of nutrients and ions into the CNS and removal of waste products and ions from the CSF. The second part of this review concentrates on the molecular biology of various solute carrier (SLC) transport proteins at those two barriers and underlines differences in their expression between the two barriers. Also, many blood-borne molecules and xenobiotics can diffuse into brain ISF and then into neuronal membranes due to their physicochemical properties. Entry of these compounds could be detrimental for neural transmission and signalling. Thus, BBB and BCSFB express transport proteins that actively restrict entry of lipophilic and amphipathic substances from blood and/or remove those molecules from the brain extracellular fluids. The third part of this review concentrates on the molecular biology of ATP-binding cassette (ABC)-transporters and those SLC transporters that are involved in efflux transport of xenobiotics, their expression at the BBB and BCSFB and differences in expression in the two major blood-brain interfaces. In addition, transport and diffusion of ions by the BBB and CP epithelium are involved in the formation of fluid, the ISF and CSF, respectively, so the last part of this review discusses molecular biology of ion transporters/exchangers and ion channels in the brain endothelial and CP epithelial cells.
Keywords
Choroid PlexusGLUT1 ExpressionChoroid Plexus EpitheliumChoroid Plexus Epithelial CellBrain Extracellular Fluid
Introduction
A constant and well-controlled composition of the extracellular fluid in the central nervous system (CNS) is essential for efficient neuronal processing. Invertebrate nervous systems, which are far less complex than the mammalian brain, are protected from fluctuations in composition of body fluids by a barrier that is formed by glial cells and this arrangement also applies to some ancestral vertebrates. With the CNS becoming more complex during evolution, an endothelial barrier appeared, giving a strong selective advantage. Consequently, all existing vertebrates, except for a few fish species, have endothelial blood-brain barriers (BBB).
The BBB and the blood-cerebrospinal fluid barrier (BCSFB) are formed by brain endothelial cells (BECs) and choroid plexus (CP) epithelial cells, respectively. The BBB and the BCSFB are not only anatomical barriers, but also dynamic tissues that express multiple transporters, receptors and enzymes. Brain capillaries are closely associated with perivascular astrocytic end-feet, pericytes and microglia that influence BBB permeability and, together with brain endothelial cells, constitute a "neurovascular unit".
The two main functions of these barriers are to impede free diffusion between brain fluids and blood and to provide transport processes for essential nutrients, ions and metabolic waste products. Hence, the aim of this review is to address similarities and differences in the molecular biology of cellular junctions, solute carrier transporters, ATP-binding cassette transporters and ion transporters at the BBB and the BCSFB.
Morphology of the BBB and BCSFB
Although there are several similar features between the blood-brain barrier (BBB) and the blood-cerebrospinal fluid barrier (BCSFB), it should be kept in mind that the cellular basis of these two structures as well as their primary functions differ: BBB is located in brain capillaries and, thus, it is an endothelial structure with its main role to protect the brain from physiological fluctuations in plasma concentrations of various solutes and from blood-borne substances that could interfere with neurotransmission, but at the same time to provide mechanisms for exchange of nutrients, metabolic waste products, signaling molecules and ions between the blood and the brain ISF. In contrast to this, the BCSFB is created by a layer of a modified cuboidal epithelium, the CP, that secretes cerebrospinal fluid (CSF) and this process could be considered as main function of this epithelium. The differences in principal function are related to differences in morphology and molecular biology.
Brain capillaries express complex morphology that provide the restrictive characteristics of the endothelial layer with regard to diffusion of solutes; this is an essential feature to protect the brain from unwanted solutes from blood with tight junctions (Tjs) that interconnect adjacent endothelial cells and occlude the paracellular spaces. In addition, BECs show low pinocytotic activity and the endothelium is further secluded by a layer of astrocytic end feet and pericytes on the brain side that place additional restrictions on permeability. Thus, the BBB in vivo provides high resistance to movement of ions, with transendothelial electrical resistance (TEER) being in the range of 1500 Ω cm2 (pial vessels), which is quite high when compared to TEER of 3-33 Ω cm2 in other tissues [1]. The total capillary surface area in the brain is about 100-150 cm2 g-1 [2], which when estimated for the whole brain approximates 20 m2 [3], suggesting that the BBB can be considered as a large and thin membrane, providing ideal conditions for exchange processes between blood and brain interstitial fluid (ISF). When considering the total area available for exchange, it should be noted that brain capillaries are perfused all the time, but they shift to high blood flow with an increase in cerebral blood flow (CBF), or to low blood flow with a decrease in CBF [4].
Choroid plexuses are villous structures floating in the CSF and attached to the ventricular ependyma by a stalk. The ependyma is continuous with the epithelial layer of the CP which is composed of a single layer of cells filled with mitochondria and joined together by tight TJs (Figure
1
) [
5
]. The TEER offered by these TJs cannot be measured
in vivo
in most animals. However,
in vitro
measurements using the single-sided fourth ventricle CP of the bull frog maintained in an Ussing chamber suggested values of about 150 Ω cm
2
[
6
], much less than the resistance of the BBB. The low value of TEER would suggest that the CPs fall into the class of leaky epithelia, similar to some segments of the kidney and gut, which form an isotonic fluid and do not generate steep transepithelial concentration gradients across the tissues [
7
]. These leaky epithelia can secrete large volumes of fluid but use relatively little energy for this process. CP epithelial cells posses a dense apical coat of microvilli, while kinocilia are rarely found; in contrast to this, the apical surface of ventricular ependymal cells demonstrates a large number of kinocilia [
8
], with rare microvilli of variable size. Between the lateral walls of the CP epithelial cells are complex interdigitations particularly apparent close to the blood side of the tissue laying on a basal lamina that demarcate the inner stroma of a highly vascularized connective tissue; these interdigitations expand the surface area of the CP [
9
].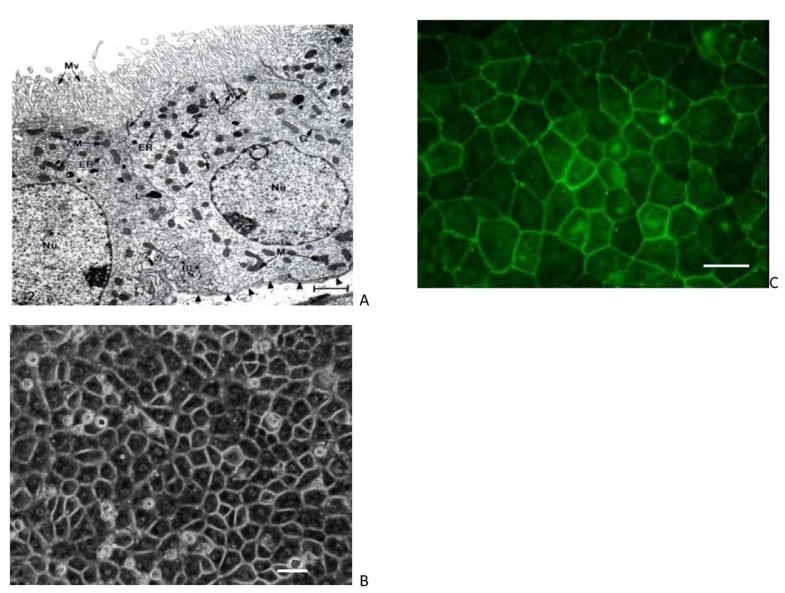 Molecular biology of cell junctions at the BBB and BCSFB
Brain endothelial cells (BECs) and CP epithelial (CPE) cells are connected at a junctional complex by the TJ and adherens junctions (AJ) [10]. BECs also express gap junctions but their functional significance is not clear. All TJ and AJ are composed of transmembrane proteins and cytoplasmic plaque proteins; plaque proteins cluster integral TJ proteins and form a platform for interaction with scaffolding and signaling proteins. In addition, a circumferential actin belt that encircles each endothelial/epithelial cell at the level of TJs is important for formation and normal function of TJs.
Protein structure of tight junctions
Transmembrane proteins of the TJ include occludin, claudins and junctional adhesion molecules (JAM)-A, B and C [
11
,
12
] (Figure
2
). Occludin structure appears to be essential for normal occluding function of TJs in both BBB and BCSFB. Occludin possesses two extracellular loops, four trans-membrane domains and three cytoplasmic domains; the cytoplasmic domains include one intracellular short turn, N-terminal domain and a 150 amino-acids long carboxyl (C-) -terminal domain [
12
,
13
] (Figure
2
). Extracellular loops provide the gate-like structure of TJs; it is believed that second loop mainly determines the TEER [
14
]. The C-terminal domain associates with zonulla occludens proteins (ZO) -1, ZO-2 and ZO-3 and interacts with regulatory proteins, such as protein kinase C, tyrosine kinase and phosphoinositide 3-kinase [
12
,
15
]. Both occludin and claudins are phospho-proteins that change conformation upon phosphorylation/dephosphorylation of the side chain hydroxyl group, which affects interaction with other proteins; therefore, regulatory proteins mainly posses kinase or phosphatase activities. Dephosphorylation of occludin causes disassembly of its association with ZO proteins. Deletion of occludin in mice results in postnatal growth retardation, although the TJs themselves appear to function normally [
16
], which suggests that other TJ proteins compensate for the lack of occludin. Occludin deletion from embryonic stem cells did not prevent differentiation of these cells into polarized epithelial cells with clear TJs [
17
]. The N-terminal part of occludin has an important role in a TJ assembly; this activity was revealed by an experiment in which abnormal occludin that lacks N-terminal domain caused a damaging effect on the TJ function of endothelial cell monolayers
in vitro
. Those monolayers failed to develop high TEER and developed increased paracellular diffusion of small polar molecules [
18
]. Occludin is also subject to endocytic recycling with two proteins associated to TJs, a member of the Rab family G-proteins, Rab13, and a Rab13-binding protein, MICAL-L2 (molecule interacting with CasL-like 2) mediating the specific endocytic recycling of occludin (but not other membrane proteins, like transferrin receptor), which is important for maintenance of functional TJs [
19
]. A study has revealed that in Alzheimer's disease (AD) and in vascular dementia there were significantly more occludin-positive astrocytes and oligodendrocytes in the frontal white matter than in age-matched controls [
20
], which may indicate autophagy of TJ proteins by the surrounding glial cells.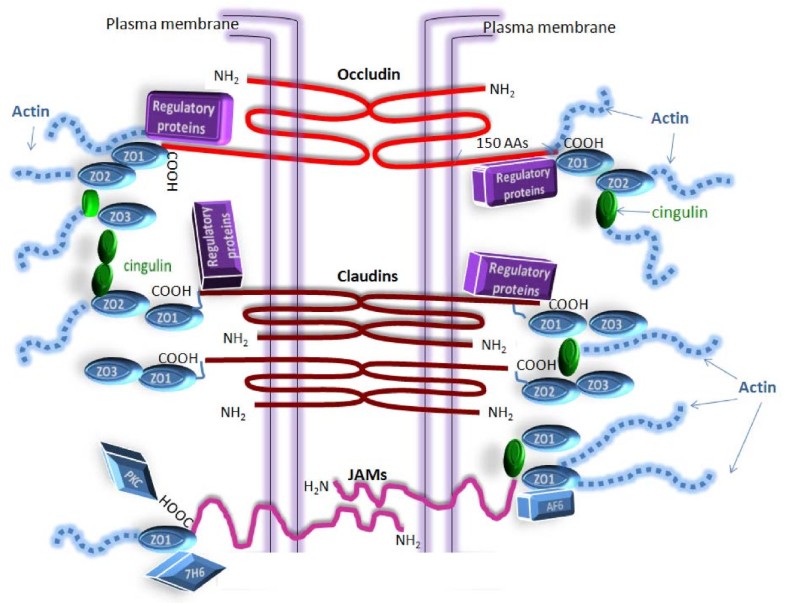 Claudins are the principal barrier-forming proteins, which include a multigene family consisting of at least 24 members in mammals and are an essential structural component of TJ strands. All claudins show the same structural pattern: four membrane-spanning regions, two extracellular loops and two cytoplasmic domains, a short N-terminal sequence and a long C-terminal sequence [21] (Figure 2). Two neighboring claudins from two adjacent cells form TJ strands through homophilic claudin-claudin interactions [22]. Extracellular loops determine paracellular charge selectivity, so each type of claudin regulates the diffusion of a group of molecules of a certain size. Deletion of claudin 5 in mice showed detrimental effects on the brain causing early death; those effects were due to a size-selective loosening of the BBB for molecules with MW<800 Da [23]. The claudin C-terminus binds cytoplasmic proteins, particularly ZO-1, ZO-2, and ZO-3 [24] (Figure 2). Proper interaction of claudins is essential to selectively limit paracellular ion movement, an action which produces the high TEER of the BBB. It appears that the differences in claudin content between the two barriers play an important role in the observed differences in TEERs between the BBB and the BCSFB [25, 26]: claudins 3, 5, 12 and probably 1 are present at the BBB [10, 23], while claudin 1, 2, 3 and 11 are expressed in the CP epithelium [27]. It was initially believed that claudin-1 was the most abundant TJ protein in the CPE and a marker of CP TJs [27]; this was later realized to be an artifact due to a cross-reaction of the anti-claudin-1 antibodies with claudin-3; it appears that claudin-3 is the most abundant claudin in CPE [28].
It was known from Goldman's second experiment [29] that the lining of the ventricular walls, which consists of a layer of ependymal cells, does not restrict diffusion of solutes. The molecular basis for this is that ependymal cells in mammals do not express TJs [30]. However, complex TJs were described in some fish and amphibia [31, 32]. Also, it was reported in mammalian brain during embryonic development that the ependymal cell layer forms cellular junctions similar to TJs and provides this layer with barrier properties [33]. This might indicate that disappearance of this CSF-brain barrier could be related to the development of the more effective epithelial BCSFB in adult mammals.
JAMs A,-B and C are members of the immunoglobulin superfamily that have a membrane-spanning domain, an extracellular domain, an extracellular N-terminus, and a cytoplasmic C-terminus [34] (Figure 2). JAMs are expressed at the intracellular junctions of BECs and CPEs and have different patterns of homophilic and heterophilic interactions with JAM molecules on the adjacent cell, forming dimers that are part of the tight junction structure [35]. The short C terminal tail contains a domain which mediates interactions with ZO-1, cingulin, junction-associated protein AF6, tight-junction-associated protein antigen 7H6 and scaffold proteins [36] and also includes phosphorylation sites that may serve as substrates for protein kinase C (PKC) [37]. It is believed that JAMs are involved in the localization of ZO-1 and occludin in TJ complexes [34]. Transmembrane TJ proteins are linked to the cytoskeleton by scaffolding ZO proteins 1, 2 and 3 in BECs and in CPE [10, 30]. These proteins belong to a family of membrane-associated guanylate kinase proteins. ZO proteins provide the cytoskeletal anchorage for the TJ proteins and are also involved in control of spatial distribution of claudins. Cingulin is a myosin-like protein that binds preferentially to ZO proteins at the globular head, to other cingulin molecules at the tail and to actin. Actin has known binding sites on all of the ZO proteins, on claudin, occludin and cingulin [38].
A study on rat BBB that used serial analysis of gene expression (SAGE) provided a comprehensive gene expression profile of rat BECs from freshly-collected brain microvasculature and has revealed that the SAGE tag for claudin 5 was 16th of the 50 most abundant tags enriched in BECs [39] with a relative abundance in rat BEC SAGE catalog 52 tags/100.000. Other TJ protein transcripts were less abundant: claudin 11 (18/100.000), ZO-2 (11/100.000) and ZO-1 (3/100.000) and they were not among the 50 most abundant tags enriched in BECs [39].
Through interactions with other proteins and/or as a consequence of cell signaling, TJs in the brain are dynamic structures; spatial distributions of proteins can be changed under various circumstances. Effects of signaling on TJ expression and integrity have been studied for pathophysiological conditions, including cerebral ischemia in vivo, conditions that mimic ischemia in vitro and inflammation. Claudin 5 expression was reduced and localization in BECs altered by hypoxia in vitro; changes were accompanied by a decrease in TEER [40]. A decrease in occludin and ZO-1 expression in BECs after cerebral embolism has been reported [41] and localization of occludin, ZO-1, and ZO-2 proteins was altered after hypoxia in vitro [42]. In addition, ZO-1 and ZO-2 shifted to the nucleus during hypoxia in vitro, a relocation that was accompanied by increased paracellular permeability [43]. Recent studies have also revealed an important role of transforming growth factor (TGF)-β-signaling in expression of TJ proteins claudin-5, occludin and ZO-1 [44]. These studies showed that peripheral inflammatory pain caused a reduction in serum TGF-β1 and protein expression of the TGF-β receptor, activin receptor-like kinase-5 (ALK5), in the brain; changes were accompanied by increased expression of TJ proteins and increased paracellular permeability of the BBB [44]. The same effects were produced by pharmacological inhibition of ALK5, which indicated that TGF-β/ALK5 signaling was involved in the regulation of TJ protein expression and/or their spatial distribution [44]. Also, oxidative stress produced during hypoxia and reoxygenation mediated an increase in BBB paracellular permeability, probably because of alterations in the localization of occludin, with movement of occludin away from the TJ [45]. Protein kinase C (PKC) is involved in control of TJ expression in BECs and it was shown that PKC isoenzyme nPKC-theta signaling mediated TJ protein rearrangement, resulting in increased BBB paracellular permeability [46]. A study on cell culture - induced changes in the blood-brain barrier transcriptome in mice by qPCR has revealed that there was a dramatic drop in the relative amount of mRNA for claudin 5 and occludin in single cultured cells, in cells co-cultured with astrocytes and in immortalized cell line, when compared to non-cultured and freshly isolated mouse BECs [47]. This finding could explain fairly low TEER values in BEC cell cultures, when compared to TEER of BECs in vivo.
Adherens Junctions
Adherens junctions (AJs) are specialized cell-cell junctions that are formed by cadherins and associated proteins into which actin filaments are inserted. Optimal function of cadherins requires association of their C terminus with catenins; cadherins bind directly to β-catenin and to p120 catenin, which can bind to α-catenin, a protein that in turn binds actin [48]. In endothelial cells, vascular endothelial (VE) cadherin is present [35, 49]; however, a study has shown that barrier-forming endothelium (i.e. BECs) and barrier-forming epithelium (i.e. CPE) mainly expressed cadherin-10, while the expression of VE cadherin was scarce [50]. On the other hand, brain microvessels that do not have BBB properties (i.e. in the circumventricular organs and CP capillaries) expressed only VE-cadherin and did not express cadherin-10 [50]. Also, in the microvessels of glioblastoma multiforme tumors, which lose BBB properties, VE-cadherin was expressed instead of cadherin-10 [50]. These findings suggest that cadherin-10 has an important role in the development and maintenance of the BBB and the BCSFB. Cadherins regulate endothelial functions by direct activation of phosphoinositide 3-kinase, a signaling system that has a role in organization of the cytoskeleton and forms complexes with the vascular endothelial growth factor (VEGF) receptor 2. Thus, cadherin-mediated signaling is important for endothelial cell layer integrity and for the spatial organization of new vessels [51]. At least four catenins, β, α, χ and p120 are expressed at the BBB, with β-catenin linking the cadherin to α-catenin which binds the complex to the actin network of the cell skeleton [49]. However, a study has challenged this view, since it was unable to confirm actin binding to a preformed E-cadherin-β-catenin-α-catenin complex [52]. As mentioned above, CPE expresses cadherin-10 while CP capillaries express VE-cadherin [50]. Only two catenins, α and β, have been detected in the CP epithelium so far, with α-catenin binding to the actin network [52].
In summary, BECs and CP epithelium show many similarities in the organization of Ts and AJs; the main difference is that the CPE provides a barrier that offers lower TEER values and is less restrictive than the BBB. The molecular organization underlying that difference is probably related to expression of different claudins, since those proteins play an important role in barrier size-selectivity and selectivity to paracellular movement of ions.
Molecular biology of transport processes between blood and brain extracellular fluids
TJs restrict paracellular diffusion across cellular layers. Thus, hydrophilic molecules cannot readily enter brain ISF or CSF by simple diffusion and must be transferred across the layer by transcellular routes. On the other hand, lipid soluble non-polar molecules can easily diffuse into lipid bilayers and thus affect the composition of cellular membranes. The later process could have a detrimental impact on brain function. Thus, the BBB and the BCSFB have, in general, a similar functional organization with regard to transport of molecules: they express various proteins in their membranes that either use carrier-mediated transcellular transport of solutes, maintaining optimal composition of the brain ISF, or use ATP-driven efflux of lipophilic molecules, the latter process having an important role in maintenance of lipid bilayers in brain cells [53].
Proteins that mediate transport of solutes not directly coupled to ATP hydrolysis belong to a superfamily of solute carriers (SLC); this family includes facilitated transporters, ion-coupled transporters and exchangers that do not require ATP. They facilitate membrane transport of monosaccharides [54], amino-acids [55], monocarboxylic acids [56], vitamins [57], nucleosides [58, 59], purine [60] and pyrimidine [61] bases, ions and amphipathic molecules (organic anions and organic cations). The second superfamily consists of ATP-binding cassette (ABC) proteins that directly couple efflux transport of molecules from a lipid bilayer against the concentration gradient to ATP hydrolysis [53]. Due to the presence of ABC-transporters, a large number of solutes and xenobiotics have a much lower transfer rate into the CNS than might be expected from their lipophilicity, which is expressed as logD octanol/buffer partition coefficient at pH 7.4.
There are large dissimilarities between the BBB and the BCSF in regard to expression of SLCs and ABC transporters. Also, some of these transport proteins are expressed in both membranes of the two barriers, in the one that faces brain fluids and in the one that faces blood/CP ISF; other transport proteins are inserted into either the luminal or abluminal membrane only.
Conclusion
Studies of the past two decades have provided insight into the molecular biology which underlines function of the two most important blood-brain fluid interfaces, the BBB and the BCSFB. Efficient homeostatic mechanisms established by those two barriers control composition of brain extracellular fluids, the ISF and CSF. These are vital to normal neuronal function and signal processing in the CNS. Two obvious functions that are common to the BBB and the BCSFB are the restriction of free diffusion and the transport of nutrients, waste products, signalling molecules and ions between blood and brain extracellular fluids. However, those two structures show important differences in their respective roles that are underlined by differences in expression of cell junction proteins, transport proteins and ion channels. An important similarity between the two barriers is that they are both dynamic systems and are able to respond rapidly to changes in brain requirements. The molecular basis of this feature is that the BBB and the BCSFB could be regulated via a number of molecular mechanisms under normal physiological or pathological conditions. Further insights into molecular mechanisms involved in BBB and BCSFB regulation should provide molecular cues for targeting the brain barriers in CNS diseases.
List of abbreviations
α 2M:

α2-macroglobulin
AA:

amino acid
AD:

Alzheimer's disease
AJ:

adherens junctions
ANP:

atrial natriuretic peptide
AVP:

arginine vasopressin
BCRP:

breast cancer resistance protein
BCSFB:

blood-cerebrospinal fluid barrier
BDNF:

brain-derived neurotrophic factor
BEC:

brain endothelial cells
CAR:

androstene receptor
CBF:

cerebral blood flow
CP:

choroid plexus
CPE:

choroid plexus epithelium
CSF:

cerebrospinal fluid
DEP:

diesel exhaust particles
DSIP:

delta-sleep inducing peptide
EAAT:

excitatory amino acid transporter
GDNF:

glial cell line-derived neurotrophic factor
HIF-1:

hypoxia-inducible factor 1
HUGO:

Human Genome Organization
ISF:

interstitial fluid
JAM:

junctional adhesion molecules
JNK:

c-Jun N-terminal kinase
LAT:

system-L amino acid transporter
LRP1:

low-density lipoprotein receptor related protein-1
MCT:

monocarboxylate transporter
MRP:

multidrug resistance-related protein
NFκB:

nuclear factor-κB
NGF:

nerve growth factor
OAT:

organic anion transporter
OATP:

organic anion transporting polypeptide
P-gp:

P-glycoprotein
PKC:

protein kinase C
PTR:

peptide transporters
PXR:

pregnane-X receptor
qPCR:

real time PCR
RAGE:

receptor for advanced glycation end products
RAP:

receptor-associated protein
SLC:

solute carriers
TBI:

traumatic brain injury
TEER:

transendothelial/transepithelial electrical resistance
TGF:

transforming growth factor
TJ:

tight junction
TTR:

transthyretin
VEGF:

vascular endothelial growth factor
ZO:

zonulla occludens
Declarations
Acknowledgements and Funding
I acknowledge help of my colleagues Dr James Donald Craik, Department of Biochemistry, and Dr Slava Malatiali, Department of Physiology, for their efforts in improving manuscript style and clarity.
Authors' Affiliations
(1)
Department of Physiology, Faculty of Medicine, Kuwait University, Kuwait
Copyright
© Redzic; licensee BioMed Central Ltd. 2011
This article is published under license to BioMed Central Ltd. This is an open access article distributed under the terms of the Creative Commons Attribution License (http://creativecommons.org/licenses/by/2.0), which permits unrestricted use, distribution, and reproduction in any medium, provided the original work is properly cited.