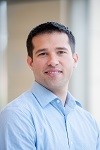 Robert Bell, Editorial Board Member
Pfizer, Inc., USA
Find publications in PubMed

Robert is the Lab Head of Neurovascular and BBB Biology within Integrative and Circuit Neuroscience in the Neuroscience Research Unit at Pfizer. Following his undergraduate education at St. Bonaventure University and Oxford University, Robert worked at Socratech LLC, a small biotech company, with the primary focus of developing therapeutics for the treatment of neurodegenerative conditions. Robert then received a PhD in Pathology studying the role of cerebral vascular dysfunction in Alzheimer's disease under the supervision of Dr. Berislav Zlokovic at the University of Rochester. Before joining Pfizer in 2013, Robert completed an American Heart Association funded post-doctoral fellowship in cardiovascular biology in the Laboratory of Joseph Miano and also held a Research Assistant Professor position in the Department of Neurosurgery at the University of Rochester. Robert's research has elucidated several cellular and molecular mechanisms that regulate neurovascular functioning. Robert has authored over 25 scientific papers and was previously an associate editor for the Journal of Alzheimer's Disease. Robert's lab is working to identify and validate novel vascular-based targets for CNS disease and to enhance delivery of medicine across the blood-brain barrier.