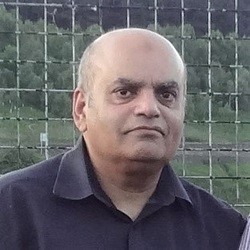 Jaleel Miyan, Editorial Board Member
University of Manchester, UK
Find publications in PubMed
Dr Jaleel Miyan obtained his undergraduate degree in Neurobiology from the University of Sussex (1978) and his PhD in Neuroscience from the University of Glasgow (1982). He held post-doctoral positions at the University of Edinburgh and the University of Sheffield before winning a Royal Society University Research Fellowship in 1986 which he held until 1996 at the Universities of Edinburgh and Manchester. He is currently a Senior Lecturer in Neuroscience at The University of Manchester, Fellow of the Higher Education Academy and Fellow of The Royal Society of Biology. He runs an active research group investigating two research areas, the role of cerebrospinal fluid in the development and function of the cerebral cortex, and the hard-wired relationship between neural and immune/host defence systems. His research has had funding from the Wellcome Trust, Medical research Council, BBSRC, The Charles Wolfson Charitable Trust, Africa Healthcare Development Trust and from the British Council INSPIRE Scheme. He is joint owner of a patent through the University of Manchester for his work on hydrocephalus and is currently organising human clinical trials for the treatment that decreases the risk for hydrocephalus in the H-Tx rat. He has won awards for innovative teaching methods and his research. He is currently President of the Society for Research into Hydrocephalus and Spina bifida.
E-mail:J.miyan@manchester.ac.uk
Web page:http://www.ls.manchester.ac.uk/people/profile/index.asp?id=2534