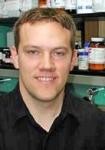 Eric Shusta, Editorial Board Member
University of Wisconsin, USA
Find publications in PubMed

Dr Eric V. Shusta is Howard Curler Distinguished Professor in Chemical and Biological Engineering at the University of Wisconsin-Madison. Dr Shusta has held a research focus in the molecular level analysis of the blood-brain barrier, employing cutting-edge genomic, proteomic, and molecular evolution techniques to better understand how the blood-brain barrier functions and how to circumvent it for the delivery of brain therapeutics. Dr Shusta has also been elected to the Governing Council of the International Brain Barriers Society.