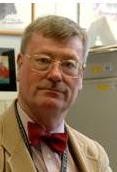 David Begley, Editorial Board Member
King's College London, UK
Find publications in PubMed
David J. Begley PhD is Senior Visiting research Fellow at King's College London. He heads a laboratory within in the Institute of Pharmaceutical Sciences at Kings College investigating the blood-brain barrier and drug delivery to the CNS with a special emphasis on lysosomal storage diseases. Dr Begley was the Friedrich Mertz Stiftungsgastprofessor, Johann Wolfgang Goethe-Universität, Frankfurt, for the academic year 1997-1998 and was visiting Academic in Residence, GlaxoSmithKline 2005-2007. He was Organiser and Chairman of the Gordon Conference on "Barriers of the CNS" held in New Hampshire in 2002. He has recently created, with Prof. Maurizio Scarpa of the University of Padua, Italy, "The Brains for Brain Research Foundation" a European Task Force dedicated to the study and treatment of Neurodegenerative Lysosomal Storage Diseases (www.brains4brain.eu).